Murujuga (Burrup Peninsula)
"The Burrup," as the locals call it, is only 28 kilometres northwest of Karratha, which again necessitates some four-wheeled means of transport. The name was chosen in 1979 after the island's highest hill, Mt. Burrup, because the former island was then connected with the mainland by a causeway for a railway line and a road.
The Aboriginal name of the peninsula is Murujuga or Murrijuga.
Aboriginal petroglyphs
Hundreds of thousands of Aboriginal petroglyphs (rock engravings) are distributed over an area of 88 sq km, inviting you to discover them. They range from small engravings of Emu tracks to very large ones representing some kind of corroboree or ceremony, Aboriginal figures climbing a ship's mast. They depict a Tasmanian Tiger (thylacine), whales, kangaroos, emus and thousands of Aboriginal ceremonies [1].
The number of petroglyphs is estimated to be between 500,000 and 1 million. The National Trust claims that about 10,000 of them have been destroyed in the last 44 years [2].
The artwork done here by Aboriginals will stun you.
For Aboriginal people the rock art is a tangible expression of their people's ancestral knowledge [3]. They are of profound importance to the local Ngarada people.
But sadly, the people are long gone, so that no-one will ever know what the engravings really represent. The Jaburara people who once lived here have been wiped out.
Aboriginal petroglyph on the Burrup Peninsula. The engravings are estimated vaguely to number between 500,000 and one million.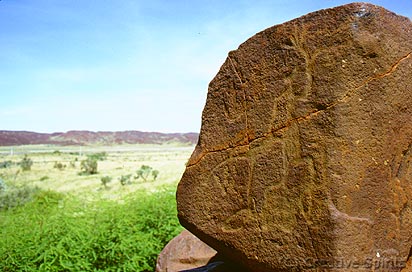 It is considered the most significant heritage site in Australia and is often compared to Stonehenge or the cave of Lasaux in France.—Sydney Morning Herald [1]
The world's finest rock art is under threat
The Burrup Peninsula came into worldwide focus in 2003 when the World Monuments Fund listed the Burrup on the top 100 most endangered heritage places on the planet—as the only Australian site. This seems, however, to escape the West Australian government.
The Western Australian government wants to develop chemical industry on the Burrup, most likely bulldozing and blasting the rock art, with evidence suggesting acid emissions from industry will rapidly erase the greater part of the rock art province [4].
As many as six gas processing plants were proposed to be built on the peninsula, and despite protests and a petition signed by more than 6,500 people the WA government and the local Aboriginal groups finalised an agreement.
As a left-over from 1960's Woodside Energy's development there is one fenced-off 'cemetery of rock art' on the Burrup Peninsula.
Woodside Energy in 2009 admitted that its history of relationships with Aborginal people on the Burrup should not be repeated [5]. The way the company had conducted business had hurt many traditional owners and local Aboriginal communities.
We did not understand [good relationships to Aboriginal people] to be important as a company.—Don Voelte, CEO, Woodside Energy
Another threat is vandalism. "We're losing lots and lots of carvings to graffiti being done on the rocks," says Robin Chapple, co-convener of Friends of Australian Rock Art's Australian chapter [6]. The biggest problem is that the Burrup's Aboriginal petroglyphs are not managed or protected which leaves them vulnerable to anyone entering that area.
Aboriginal groups agree with Minister for Energy about Burrup case
Three Aboriginal groups who claimed Australia's largest native title on the Burrup peninsula have signed a "State Government heritage protection and compensation package" with Eric Ripper, Deputy Premier, Treasurer and Minister for Energy of Western Australia on January 11th, 2003.
The agreement was described by the Premier as the largest and most complex involving native title and development in Australia. It allows "the major industrial developments to proceed" over 40% of the area. In return the parties want to protect Aboriginal heritage in the "non-industrial" land, establish a co-managed conservation reserve and provide benefits for the Aboriginal community like education and training.
The agreement is worth some 15 million dollars [7].
Heritage is a mess in Western Australia. If Stonehenge were in the Pilbara, it would no longer exist.—Sally Morgan, Pilbara academic and Indigenous author [8]
Between 5 and 25% of these unique rock engravings have irrevocably been destroyed by industrial activity already.—Living Black SBS TV program, 2 Aug 2006
Emissions endanger Burrup rock art
According to ABC Online the community pressured the State Government to "abandon or curb industrial expansion on the Burrup because of fears that industrial emissions are harming the rock art." [9] The State Government has initiated a four-year study to prove that industrial emissions have no effect on the engravings. During this study the Government is "not going to stop industrial development."
However, research undertaken by Aboriginal archaeologist Les Bursil in Sydney suggests that emissions do contribute to the erosion of Aboriginal rock engravings.
Bursil found that matching the increasing number of registered cars on Sydney's roads the depth of Aboriginal rock art decreased from 16mm in the 1950s to just 5mm in 2008 [10]. That means, petroglyphs lose about half a grain of rock per year.
Only the extraordinary hardness of the Burrup rock allowed the carvings to survive, some of which are believed to be more than 20,000 years old [1].
Read more about Aboriginal rock art.
The Burrup is heritage listed
In 2006 debate over the Burrup peninsula and its rock engravings intensified again. For a long time the West Australian Government along with Woodside Energy Ltd opposed a heritage listing of this "prehistoric university". Politicians claimed that heritage listing the area would be an "economic catastrophe" and any heritage listing would not go ahead without concessions to the energy industry.
Woodside manages a $20 billion venture over a liquefied natural gas plant (LNG), which currently provides almost two-thirds of WA's gas supply and export. But Woodside now has plans to expand their own business with a new 6.8sq km LNG facility on the Burrup peninsula occupying 2.5% of the National Park.
When the federal government announced National Heritage listing for the Peninsula on July 3rd, 2007 it explicitly excluded the Woodside lease.
Rock art on national 'at risk' list
In November 2007 the Aboriginal rock art of the Burrup peninsula has been listed among the ten most 'at risk' places in Australia. The National Trust narrowed down a list of more than 60 places throughout Australia [11].
Similarly, the World Monuments Fund has placed the Dampier Archipelago on its list of the 100 most endangered heritage sites on earth. [12]
Support this unique world-heritage
Show your support by signing the petition at www.getup.org.au!
Or learn more by checking out the Facebook page of the Stand Up For The Burrup group.
How to find them
Finding these engravings is not easy; you'll have to develop a sense of where they might be. Look for evenly formed rock surfaces either lying horizontally or standing vertically which might give a good ground to work on. Mostly they overlook a certain area. But the best way is to go with local knowledge: Ask your hostel manager for a Burrup tour. (Dingo's Oasis Backpackers has been recommended to me by an ex-hostel manager. They do tours out of Port Hedland.)
Burrup Lookout
Driving back to Karratha, you'll come to the junction of Burrup Road (which took you to Hearson's Cove) and Dampier Road (which will take you back to Karratha).
To the left you will notice a dirt track doubling back. It eventually heads up the hill to a radio transmitter on top.
It is worth the bumpy drive as you'll be rewarded by fantastic views over the Burrup and evaporative ponds of the Dampier Salt operation (they let sea water evaporate to get the salt).
Enjoy the sunset and photograph Sturt's Desert Pea, a lovely little flower which can be found here. Give the Dampier Salt Lookout a miss, it really isn't worth the effort.
Last updated: 11 June 2013
Related articles & resources
Articles and resources related to "Murujuga (Burrup Peninsula)":
Australia has some of the oldest and largest open-air rock art sites in the world. Aboriginal rock art sites can be found almost everywhere in rural, remote and even urban environments. It offers an insight into extinct species, spirituality…
An Aboriginal custodian, an archaeologist and a rock art conservator uncover an Aboriginal rock engraving site with members of the public—in the middle of a densely-populated suburb of Sydney.