History
Aboriginal history timeline (2011 - today)
Explore a timeline of historic Aboriginal events from 2011 to today.
Close this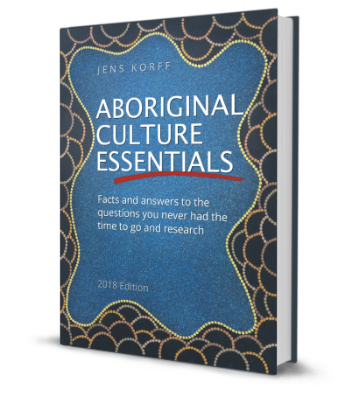 Wishing you knew more about Aboriginal culture?
Search no more.
Get key foundational knowledge about Aboriginal culture in a fun and engaging way.
This is no ordinary resource: It includes a fictional story, quizzes, crosswords and even a treasure hunt.
Stop feeling bad about not knowing. Make it fun to know better.
Recent history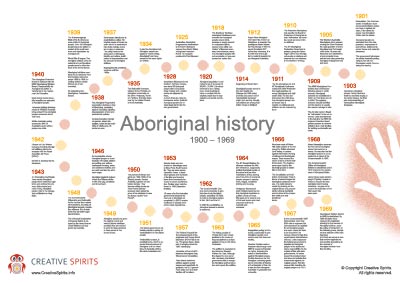 Get infographic View all infographics
(Immediate download)
2011

January: Australia experiences its worst flooding on record affecting Queensland, Victoria, Western Australia and Tasmania. The floods claim the life of at least one Aboriginal person, delay land claim hearings and put further pressure on people on housing waiting lists. Many don't accept help or play down their loss. Aboriginal musician Troy Cassar-Daley loses his farm near Brisbane.

Golden Guitars are pretty sturdy, like the artists that get them.—Troy Cassar-Daley, commenting about the Golden Guitars he won which were muddied by the floods [1]

6 January: Australia's First Nations Political Party (AFNPP) is registered with the Australian Electoral Commission, entitling it to elect an executive and pre-select candidates for parliamentary elections. The party was founded by Maurie Japarta Ryan, grandson of Vincent Lingiari.

27 January: Australia appears before the United Nations Human Rights Council's first Working Group on the Universal Periodic Review. It receives 145 recommendations covering a wide range of human rights issues including the treatment of asylum seekers, Aboriginal peoples, multiculturalism and racism, and the status of Australia's obligations under international human rights law.

2 February: Cyclone Yasi crosses over north Queensland causing billions of dollars of damage. Palm Island loses its over 100-year-old Old Fig Tree, a story place of the community. People as far as 700 km away feel the force of the storm which triggers the biggest domestic deployment of the defence forces.

February: Australia Post becomes the first government business enterprise to create a Reconciliaton Action Plan (RAP). It celebrates it with the release of an invitation-only commemorative stamp featuring Ellen Pangerian (1847-1877), also known as Helen Mary Cuper, who was the first Aboriginal post mistress in Australia.

16 March: Yindjibarndi Aboriginal Corporation releases the video FMG's Great Native Title Swindle showing Fortescue Metals Group head Andrew Forrest addressing a remote Pilbara community meeting. The video shows how powerless and unsupported Aboriginal people are when negotiating with a multibillion-dollar corporation. The video causes big waves in the media.

24 March: The Lowitja Institute opens in Melbourne, the first national body solely committed to Aboriginal and Torres Strait Islander health research. Its naming patron is Aboriginal woman Dr Lowitja O'Donoghue from the Luritja clan of Central Australia.

17 April: Yindjibarndi woman Jodi Broun and Butchulla man Les Malezer become the first elected national Indigenous leaders since the abolition of ATSIC as they assume the positions of co-chairs of the National Congress of Australia's First Peoples.

25 April: For the first time, Aboriginal people join on behind the Anzac Day march in Canberra with a banner 'Lest We Forget the Frontier Wars'.

April: Benson Saulo from the Wemba Wemba people and raised in Tamworth, is the first Aboriginal person to become Australia's Youth Representative to the United Nations.

8 May: Aboriginal boxer Lionel Rose dies aged 62. He was the first Aboriginal boxer to win a world title. ⇒ Famous Aboriginal sports people

8 June: The National Congress of Australia's First Peoples gets the first elected board, giving Aboriginal people the first elected national representative body since the abolition of ATSIC.

June: The Australian Capital Territory gets its first Aboriginal politician when Gamilaroi man Chris Bourke is elected to the ACT Legislative Assembly. Mr Bourke is the son of Prof Colin Bourke, the first Aboriginal person to qualify as a dentist.

2 October: Dr Aunty Ruby Langford Ginibi dies. She was one of Australia's foremost Aboriginal authors and wrote numerous books, short stories and poetry. Her trademark term was 'edu-ma-cating' non-Aboriginal people about Aboriginal peoples' circumstances and struggle. ⇒ Aboriginal books

28 September: The Federal Court of Australia rules that journalist Andrew Bolt has breached the Racial Discrimination Act by challenging the right of people of mixed descent to claim Aboriginal ancestry. He alleges that they fraudulently draw benefits available only to Aboriginal people.

October: Aboriginal directory service inguides.com.au launches Australia's first Indigenous mobile application.

40th anniversary of the Aboriginal Tent Embassy.

November: Gamilaroi man Chris Bourke becomes the ACT's first Aboriginal government minister, taking on the portfolios of Aboriginal and Torres Strait Islander Affairs, education and training.

The government introduces new legislation to extend key Northern Territory Emergency Response measures for a further 10 years. ⇒ The NT Intervention

2012

26 January: The Aboriginal Tent Embassy in Canberra celebrates its 40th anniversary. An incident where the Prime Minister was disturbed by around 50 protesters outside a restaurant makes security guards drag her hurriedly into a car. She loses a shoe, gaining her the nickname 'Gingerella' (alluding to Cinderella and PM Julia Gillard's red hair). Media reports grossly exaggerate the events.

14 February: Three former Aboriginal children's homes are added to the NSW State Heritage Register: Cootamundra, Bomaderry Aboriginal Children's Home and Kinchela Aboriginal Boys Training Home.

February: Gadigal-Wirradjuri man Matthew Myers becomes the first Aboriginal Australian to be appointed to the bench of the federal court.

March-April Aboriginal people set up tent embassies in Brisbane, Moree and Perth to draw attention to issues such as sovereignty and native title.

April: The first Aboriginal-owned biobank opens in the Hunter Valley.

Western Australia renames the Foundation Day public holiday (first Monday in June) as Western Australia Day, for the first time in legislation recognising Aboriginal people as the original inhabitants and traditional custodians of Western Australia.

2 April: Veteran Aboriginal country musician Jimmy Little, dies after a long illness, aged 75, at his home in Dubbo in western NSW.

2 May: The NSW Governor launches the Justice Reinvestment Campaign which aims to spend more money on prevention and early intervention than imprisonment.

18 June: Campaign Stand For Freedom presents 43,000 signatures to the Australian government supporting Aboriginal demands that the Stronger Futures legislation be withdrawn.

30 June: Government and opposition introduce laws that continue the Northern Territory Intervention for another 10 years ("Stronger Futures" legislation).

9 August: After widespread outrage and a petition signed by 20,337 people Facebook removes a page of Aboriginal memes which portrays Aborigines as drunks who sniff petrol and bludge on welfare.

15 September: Over 200 people, including newly arrived asylum seekers, receive an Aboriginal passport. The Aboriginal passport was first introduced in 1988 by Palawa (Tasmanian) activist, Michael Mansell, and was issued to an Aboriginal delegation that visited Libya.

5 October: The Australian Ballet announces that with Ella Havelka, a descendant of the Wiradjuri people, for the first time in its 50-year history, an Aboriginal dancer joins the ranks of the national ballet company.

12 December: In an historic day for Australia, SBS begins broadcasting nationally a dedicated Aboriginal TV service available free-to-air for the first time. The new channel incorporates NITV (National Indigenous Television) on SBS4 (digital channel 34) and starts at 12pm on 12/12/2012.

15 December: More than 30 years after the Mabo decision the Queensland government returns the title over the Murray Islands back to the Meriam people.

2013

13 February: The Australian Parliament passes with bi-partisan support the Aboriginal and Torres Strait Islander Peoples Recognition Bill 2012 which recognises the unique and special place of Aboriginal people and sets out a review process to progress the route to a referendum.

14 March: The Northern Territory Country Liberal Party elects Gamilaroi man Adam Giles as Chief Minister. He is the first Aboriginal person to head an Australian government.

30 March: Murrawarri people from the Culgoa River region of northern New South Wales declare their sovereignty of their lands under the name of the Murrawarri Republic. Along with the boundaries of their republic they also present their own flag. The Peoples Council of the Murrawarri Republic held its first meeting at Weilmoringle on 13 July 2013.

April: The federal government grants environmental approval to Toro Energy's Wiluna project, the first uranium mine in Western Australia.

12 April The Western Australian government replaces the word 'Indigenous' with the word 'Aboriginal' in their official documents, and also changes the "Department of Indigenous Affairs" to the "Department of Aboriginal Affairs".

24 May A 13-year-old girl calls Sydney Swans Aboriginal rugby player Adam Goodes an "ape", shattering the star. The racist incident comes 20 years after Aboriginal player Nicky Winmar pointed proudly to his black chest in a similar incident. Another comment by television presenter Eddie McGuire a few days later sparks a national debate about racism.

2 June Yothu Yindi lead singer Yunupingu dies of kidney disease at his home in Yirrkala in Eastern Arnhem Land, Northern Territory, aged 56.

6 June The Musée du Quai Branly (MQB) in Paris unveils the largest Australian Aboriginal public artwork in the world on its roof, a detail of Lena Nyadbi's painting Dayiwul Lirlmim (Scales of the Barramundi). The permanent artwork is only viewable from atop the Eiffel Tower.

27 June: Kevin Rudd becomes Prime Minister (again).

19 July: Australia Post honours 5 "eminent" Aboriginal people in a stamp issue: Shirley Smith AM, Neville Bonner AO, Oodgeroo Noonuccal, Eddie "Koiki" Mabo and Charles Perkins AO.

23 July: The Victorian Government appoints Aboriginal man Andrew Jackomos as Victoria's - and Australia's - first Commissioner for Aboriginal Children and Youth. The appointment of an Aboriginal children's commissioner was one of the recommendations arising out of the Protecting Victoria's Vulnerable Children Inquiry.

August: Tiwi Islander Rob Collins wins the role of the kind-hearted leader Mufasa in the Disney musical The Lion King.

12 August: The Euahlayi Nation, whose traditional lands straddle the border in upper western NSW and lower southwest Queensland, declares independence from the Commonwealth.

7 September: Tony Abbott becomes Prime Minister of Australia. His Aboriginal policy declares that "Australia will, in effect, have a prime minister for indigenous affairs and a dedicated indigenous affairs minister."

Nova Peris becomes Senator for the Northern Territory and the first Aboriginal woman to enter federal parliament.

October: Australian South Sea Islanders elect their first national governing body which creates a national secretariat, board of directors and an ethics council.

12 November: Western Australia Premier Colin Barnett compulsorily acquires 3,414 hectares at James Price Point in the Kimberley to develop a supply base and gas processing hub.

He calls it self-determination; we call it standing on our own feet with a gun to our head.—Wayne Barker, spokesman for the Jabirr-Jabirr [2]

Singer Jessica Mauboy wins the prestigious ARIA Award for best female artist.

2014

25 January: AFL player Adam Goodes becomes Australian of the Year "for his leadership and advocacy in the fight against racism both on the sporting field and within society".

26 January: Townsville Council for the first time officially celebrates both Survival Day (on 24 January) and Australia Day (on 26 January).
The late Dr Yunupingu from Aboriginal band Yothu Yindi posthumously receives the Companion of the Order of Australia, one of Australia's highest honours. The award recognises the highest degree of service to humanity.

March: The government introduces legislation to repeal some parts of Section 18C of the Racial Discrimination Act which were used to sue Andrew Bolt for racially vilifying fair-skinned Aboriginal people. After massive protests from all sections of the community it drops its proposal in August.

11 April: The inaugural Australian Indigenous Fashion Week (AIFW) is held in Sydney, showcasing Aboriginal fashion, textiles and accessories from across Australia.

28 April: Jack Charles becomes the first Aboriginal person to win a lifetime achievement award at the Victorian Green Room Awards for the show Jack Charles v the Crown.

April: Sydney artist Daniel Boyd becomes the first Aboriginal man to win the Bulgari Art Award, one of Australia's most esteemed contemporary art prizes, for his work Untitled 2014.

In the court case Ngurampaa v Balonne Shire Council, the Queensland Minister for Natural Resources and Mines (with responsibility for Lands) presents in writing an admission that there are no cession documents, nor surrender documents as a result of war, relating to the Euahlayi peoples, neither are there any documents to show that the Euahlayi Peoples' allodial title to land was transferred to the Crown's land tenure system.

9 May: Aboriginal singer Jessica Mauboy performs as a guest singer at the 59th Eurovision Song Contest in Copenhagen, becoming the first guest singer from a non-European Union country.

13 May: The Australian government axes more than $534 million dollars from Aboriginal programmes in the federal budget. It cuts more than $160 million from Aboriginal health programmes.

24 June: Inaugural National Indigenous Human Rights Awards at the NSW state parliament. Among the categories are the Dr M Yunupingu Human Rights Achievement Award (awarded to Arrernte elder Rosalie Kunoth-Monks), the Edward 'Koiki' Mabo Social Justice Award (awarded posthumously to Arthur and Leila Murray) and the Anthony Mundine Courage Award (awarded to Gamilaroy woman Barbara McGrady).

There is no greater rights struggle on this continent than that of the Aboriginal struggle.—Shaoquett Moselmane, NSW parliamentarian who conceived of the awards [3]

September: The federal government — without consultation — announces that it would stop providing funding to remote homeland communities from 1 July 2015, prompting Western Australia and South Australia threaten to close "unviable" communities.

15 September: Prime Minister Tony Abbott spends a week at Gulkula in north-east Arnhem Land, meeting Aboriginal leaders and community members and running the country from his campsite. He is accompanied by other ministers and a team of bureaucrats.

17 October: The University of Sydney suspends Professor Barry Spurr after some of his racist emails were published. Among other racial slurs, he called Aboriginal people "Abos" and PM Tony Abbott an "Abo lover".

21 October Gough Whitlam dies aged 98. Gurindji Elder, Michael George, commented, "As a mark of respect, Gurindji people will now refer to this man as 'kulum Whitlam'... This great man helped us get better wages, health, education and housing, and most importantly, gave us our land back." In 1975, Whitlam returned their land to the Gurindji.

5 November: Defence returns the nuclear weapons testing range in the Woomera Prohibited Area to traditional Aboriginal owners, the last parcel that hadn't been returned.

Actress Rosalie Kunoth-Monks is named the NT Australian of the Year for 2015. She played the lead role in the film Jedda in 1953 at age 17.

27–28 November: Traditional Owners, leaders, elders and community members from across Australia gather in Mparntwe (Alice Springs) for the Freedom Summit declaring the independence, sovereign power and authority of their nations and peoples. The summit endorses a delegation of 20 to stand up united and reclaim the "Aboriginal Rights Struggle". The summit's spirits lives on in the Freedom Movement.

December: Amendments to the Police Administration Act (NT) commence which provide for 'paperless arrests', allowing the police, without a warrant, to detain a person in custody for up to 4 hours, or longer if the person is intoxicated. The laws are believed to disproportionally affect Aboriginal people.

2015

19 January: The National Indigenous Times newspaper is up for sale due to mounting legal bills in two law suits against the paper.

1 February: Nunukul-Nughi woman Leeanne Enoch is set to become the first Aboriginal woman elected to Queensland Parliament.

9 February: Aboriginal people commence a sit-in in Canberra at Parliament House to confront politicians about the state of Aboriginal affairs around the country. They demand that the Commonwealth of Australia begins negotiations towards decolonisation with the goal of healing from the "devastation wreaked upon Aboriginal Nations and Peoples" by violations of human rights.

13 February: Aboriginal activist Faith Bandler dies, aged 96. She was a tireless social activist, best known for her 10-year campaign leading the landmark 1967 referendum that ensured Aboriginal Australians were counted as full citizens.

23 February: Yaegl woman Pauline Clague wins the 2015 Stanley Hawes Award for her extensive work in championing and producing the works of Australia's emerging and Aboriginal filmmakers. Pauline was the Aboriginal training officer at the Australian Film, Television and Radio School from 2009 to 2013, developing more than 35 courses around Australia and training 650 Aboriginal people.

19 March: Thousands of people rally in cities and towns around Australia protesting against the planned closure of around 150 remote Aboriginal communities in Western Australia.

1 May: The campaign against the forced closure of Aboriginal communities continues with a second international day of action, with more than 85 rallies across Australia, New Zealand, Canada, Germany, Hawaii, Hong Kong, China, UK and the USA.

30 May: Nyoongar elder Robert Isaacs is named Western Australian of the Year for helping set up Australia's first Aboriginal school, Clontarf Aboriginal College, improving the justice system and helping to assist Aboriginal people achieve home ownership and housing security.

21 June: Denise Champion, an Adnyamathanha woman from the Flinders Ranges, becomes the first Aboriginal woman to be ordained as a Christian minister in South Australia.

3 June: On the 23rd anniversary of the landmark Mabo decision, Sydney Observatory honours Eddie Koiki Mabo's legacy by naming a star after him (SSSC star Koiki, constellation: Crux).

July: After more than 12 months of ongoing racism by booing fans of opposing teams Adam Goodes withdraws from playing AFL for a week. In support of Adam some media start an "I Stand With Adam" campaign. 150 organisations join together to call for renewed efforts to stamp out racism in sport and everyday life. Goodes quits for good in September after 18 years of professional football.

28 August: Prime Minister Tony Abbott becomes the first prime minister to visit the grave of land rights campaigner Eddie Koiki Mabo on Murray Island in the Torres Strait.

15 September: Malcolm Turnbull becomes Australia's 29th Prime Minister, after launching an all-or-nothing leadership challenge against Tony Abbott, the self-declared "prime minister for indigenous affairs".

24 September: Anthony McAvoy becomes Australia's first Aboriginal silk. He specialises in native title claims.

30 September: West Australian Aboriginal MP Ken Wyatt becomes the first Aboriginal Member of Parliament to reach the frontbench working as Assistant Health Minister.

21 October: The winners of the 2nd National Indigenous Human Rights Awards are Tauto Sansbury (Dr Yunupingu Award for Human Rights), aunty Jenny Munro (Eddie Mabo Award for Social Justice) and Adam Goodes (Anthony Mundine Award for Courage).

9 November: Australia appears before the United Nations Human Rights Council's 2nd Working Group on the Universal Periodic Review.

2016

Aboriginal languages become a new HSC subject, seven years after the NSW Aboriginal Languages Policy was introduced.

January: Apple Store and Google Play remove the online game Survival Island 3- Australia Story 3D which told players to "beware of Aborigines" and had them bludgeon Aboriginal people to death to progress through the game. An online petition, started by Aboriginal woman Georgia Mantle, gathered 84,672 signatures in just 5 days.

29 March - 3 April: Inaugural Indigenous Football Week, to highlight the achievements of Aboriginal soccer players past and present, as well as the next generation of talent. The week is also a major fundraising initiative for John Moriarty Football, a not-for-profit organisation that works to improve education and life outcomes for young Aboriginal footballers and their families in remote Australia.

18 May: The Kenbi land claim, Australia's longest running land claim, settles after 37 years. The land claim stretches across the Cox Peninsula on the western side of Darwin Harbour and includes 65,000 hectares to be used by the Larrakia and the Belyuen people. The claim overcame 2 extensive hearings, 3 Federal Court reviews and 2 High Court appeals.

9 June: Aboriginal leaders come together to announce the Redfern Statement, an urgent call for a more just approach to Aboriginal Affairs and government action. Read the statement

2 July: A record number of 13 Aboriginal candidates run for the federal election: Linda Burney (electorate: Barton, NSW), Ken Canning (Sydney, NSW), Pat Dodson, Jacqui Lambie (TAS), Sharlene Leroy-Dyer (Senate, NSW), Kerryanne Liddle (Senate, SA), Joanna Lindgren, Carol Martin, Malarndirri McCarthy (NT), Kado Muir, Tammy Solonec (Swan, WA), Shea Taylor (Senate, QLD), Ken Wyatt (Hasluck, WA).

3 July: Linda Burney becomes the first female Aboriginal MP in Australia's history after claiming the Federal seat of Barton. She is the first female Aboriginal MP in the House of Representatives.

25 July: ABC's Four Corners broadcasts Australia's Shame, a documentary on abuse of children in NT detention centres, sparking shock nationally and internationally. Within a day the Prime Minister forms the Royal Commission into the Child Protection and Youth Detention Systems of the Northern Territory.

1 August: A new law in Victoria allows Koorie people to protect and control the use of their culture and heritage by nominating for protection particular elements, e.g. traditional songs, stories, dance and art with significant spiritual and cultural connection to knowledge.

18 August: Amnesty International Australia reveals documents alleging abuse of Aboriginal youth in QLD detention centres at Townsville's Cleveland Youth Detention Centre and Brisbane Youth Detention Centre from 2010 to 2015. Guards stripped children, used dogs to intimidate, used excessive force, put children for prolonged periods into isolation and used search techniques banned in adult prisons.

27 August: Northern Territory general election - The Yolgnu Nations Assembly selects Yingiya Mark Guyula as an independent candidate who promotes a treaty with the government.

15 September: The Australian Psychological Society apologises to Aboriginal people for not honouring their "cultural belief systems and world views", for conveying "misleading and inaccurate messages" about their abilities, for work only benefiting the researchers, for ignoring traditional healing techniques and for their "silence and lack of advocacy on important policy matters" such as the Stolen Generations. [4]

3 October: Jessica Mauboy becomes the first Aboriginal lead actor in a drama series of a commercial network, starring as Billie Carter in The Secret Daughter by Channel Seven.

3-5 November: The inaugural National Indigenous Football Championships are held in Shoalhaven, NSW.

November: Rodney Kelly, a descendant of Cooman and leader of a delegation to secure the return of the historic 'Gweagal shield' from the British Museum, discovers a similar shield at the Ethnological Museum of Berlin. Both finds are significant and date from 1770 when the HMS Endeavour arrived at Botany Bay.

5 December: In a rare win for an Aboriginal community, the Federal Court finds police were racist during the 2004 riots on Palm Island. Justice Mortimer found police had contravened the Racial Discrimination Act in their treatment of Aboriginal witnesses, submitting inaccurate information to the coroner, and failing to "communicate effectively" with the community to defuse tensions. Senior Sergeant Hurley should have not remained on the island or on duty.

15 December: The Tasmanian government passes into law an amended preamble to the Tasmanian Constitution Act to formally recognise Aboriginal people "as Tasmania's First People and the traditional and original owners of Tasmanian lands and waters". Tasmania was the last state that had to amend its constitution in that way.

2017

18 January: Ken Wyatt is appointed Minister for Aged Care and Indigenous Health, making him the first Aboriginal federal minister. It makes Mr Wyatt not only the first Aboriginal Australian elected to the House of Representatives and first to the frontbench, but also the first to lead a major portfolio.

8 February: The Federal Court rules that Indigenous Land Use Agreements (ILUA) can only be registered if they are signed by all registered Native Title Claimants who are "named applicants", replacing a previous court decision that allowed registration without all named applicants having signed the ILUA (called the McGlade decision).

14 February: The Co-Chairs of the National Congress of Australia's First Peoples and prominent Aboriginal leaders from across Australia formally present the Redfern Statement to parliamentary leaders in Canberra.

March Hip-hop duo A.B Original (Yorta Yorta man Briggs and Ngarrindjeri man Trials) win the Australian Music Prize (the biggest prize for an album in Australia) with Reclaim Australia.

3 April: June Oscar AO, a Bunuba woman from Fitzroy Crossing, WA, starts her 5-year term and becomes the first female Aboriginal and Torres Strait Islander Social Justice Commissioner of the Australian Human Rights Commission.

3 April: UN Special Rapporteur on the rights of indigenous peoples, Victoria Tauli-Corpuz, presents her preliminary report on the human rights situation of Aboriginal people.

NITV launches Australia's first ever Aboriginal animated children's series, Little J & Big Cuz.

13 May: Tracey Moffatt (Bedevil) represents Australia at the 57th Venice Biennale (13 May – 26 November), making her the first Aboriginal artist to present a solo exhibition at the event.

May: More than 250 Aboriginal leaders from across the country gather at Uluru at the Referendum Council's National Convention to identify amendments required for constitutional recognition of Aboriginal people. But the government rejects a proposal for a constitutionally enshrined voice to Parliament.

9 June: Australia's peak union body, the Australian Council of Trade Unions, establishes the First Nations Workers' Alliance (FNWA) to represent participants of the Community Development Programme. (CDP). The CDP employs jobless people in remote Australia at conditions very different to urban areas, and more than 80% of its participants are Aboriginal.

20 July: One of the longest-running native title cases (starting in 2003) comes to an end, with the Federal Court awarding exclusive rights over Pilbara land to the Yindjibarndi people. The land includes Fortescue Metals Group's Solomon Hub mine.

15 August City of Yarra councillors in Melbourne vote unanimously to no longer refer to 26 January as Australia Day in all official documents and not hold citizenship ceremonies on that day to support the campaign to change Australia Day. Neighbouring Darebin council follows on 21 August.

3 September: Clinton Pryor arrives at Parliament House in Canberra after walking 5,800 kilometres from Perth (WA). Called 'Spirit Walker', he had started his year-long walk to highlight the situation of Aboriginal people and meet with the Prime Minister to present him with a list of grievances about the state of Aboriginal affairs.

18 October: The NSW Parliament introduces the Aboriginal Languages Bill 2017 which is designed to recognise the significance of Aboriginal languages and, for the first time in Australia's history, how important it is to preserve them and find measures to protect and revive NSW Aboriginal languages.

October: Josie Baker wins the title of Miss First Nation Ultimate Queen at the first Aboriginal and Torres Strait Islander national drag competition in Darwin.

1 November: The Uluru-Kata Tjuta National Park (UKTNP) board unanimously decides to close the Uluru climb on 26 October 2019.

15 November: After more than 40 years of being discovered at Lake Mungo, the oldest Aboriginal remains ("Mungo Man") begin their final journey home to eventually be buried on country.

20 November: Greens' Lidia Thorpe defeats Labor's Clare Burns in a seat the party had held for 90 years to become the first Aboriginal woman to be elected to the Victorian parliament.

27 November: Australian Labor Party member Cynthia Lui becomes the first Torres Strait Islander elected to office during the Queensland state election by winning the Cook electorate.

26 December: A crew of 16 Aboriginal people aboard the Southern Excellence II is the first Aboriginal team to compete in an official yacht race, the Sydney to Hobart Yacht Race. Because they missed the entry deadline they are not part of the official race.

2018

January: For the first time, Year 11 HSC students can learn about pre-1788 Aboriginal history in the same way they are taught ancient Greek and Roman history, with a new 'Ancient Australia' unit within the Ancient History Stage 6 syllabus. Students investigate ancient artefacts and sites in their local area.

26 January: Wiradjuri woman and tennis legend Evonne Goolagong-Cawley is made a companion of the Order of Australia, the nation's highest honour. She is recognised for her services to the game as a player and ambassador, and her work as a role model and advocate for young Aboriginal Australians. She was also named Australian of the year in 1971 and made an officer of the Order of Australia in 1983.

22 February: Ganalbingi man and artist Johnny Warrkatja Malibirr, from the remote community of Gapuwiyak in the Northern Territory, wins the inaugural Kestin Indigenous Illustrator Award.

9 April: His Royal Highness the Prince of Wales visits Nhulunbuy, in north-east Arnhem Land, Northern Territory, for his first visit to the remote region. He meets with members of the Yolngu Nations Assembly and local politician Yingiya Mark Guyula who present His Royal Highness with a 'Letter Stick' that expressed their sovereignty and requested the Price "to acknowledge our sovereignty and promote a pathway to Treaty". [5]

13 April: Wiradjuri woman Dhani Gilbert wins the 2018 Young Canberra Citizen of the Year Award for her community work, academic pursuits and advocacy for Aboriginal people.

21 April: Gurrumul's final album Djarimirri (Child Of The Rainbow) becomes the first number one Australian Recording Industry Association (ARIA) album in an Aboriginal language, only a week after its release on 13 April. In August at the 2018 National Indigenous Music Awards it wins Album of the Year, Song of the Year for the title track, and Gurrumul is posthumously named Artist of the Year.

28 May: The Australian Capital Territory becomes the first state or territory to recognise reconciliation with a public holiday by changing its Family & Community Day to become a Reconciliation Day public holiday. It will now be the first Monday on or after 27 May.

8 June: The Northern Territory government and all four of the NT's Aboriginal land councils sign a historic agreement to begin treaty talks. The Barunga agreement commits the all parties to a 3-year process to consult all Territorians to "develop a process to negotiate a Northern Territory treaty" with the aim "to achieve real change and substantive, long-term benefits for Aboriginal people". [6]

12 July: In a "historic apology", Western Australia's Police Commissioner Chris Dawson formally apologises for the mistreatment of the state's Aboriginal people at the hands of police, acknowledging the "significant role" police played in contributing to a traumatic history. (full transcript)

Today, on behalf of the Western Australia Police Force, I would like to say sorry to Aboriginal and Torres Strait Islander peoples for our participation in past wrongful actions that have caused immeasurable pain and suffering.—Chris Dawson, Police Commissioner, Western Australia [7]

2019

26 October: The Uluru-Kata Tjuta National Park board closes the Uluru climb after a unanious decision made in 2017.
More Aboriginal timelines