Guide to Katoomba walking tracks
Check out these Katoomba walking tracks which I've walked personally.
Get all the tips you need to discover the less beaten tracks and get away from the crowds.
Blue Mountains hiking tips
Katoomba is a great place to set off hiking in the Blue Mountains. Here are some general recommendations from my own personal experience so you can make the most of your hiking trip: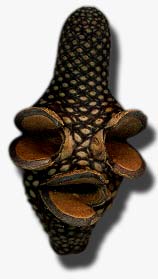 Set off early. I know it's a challenge, but try to get moving at 7am with a car, at 8am with the (first) train to beat traffic.
Stay hydrated. Take plenty of water with you, either with your built-in backpack water system or in plastic bottles.
Protect your skin. Protect your skin against the sun: wear a hat, take sunscreen.
Take food. Prepare some food the night before (fruits, carrots, nut mix; avoid expensive and sugary muesli bars).
Start well. A good breakfast on the day of the walk is oats which gives you a healthy dose of low-GI fibre and slow-release carbs so you feel full for longer.
Pack essentials. Pack your sunglasses, a pocket knife and some first aid.
Know where you are. Get a good walking map. Friends of mine almost got lost once, and people like you have died in the mountains.
Recharge batteries. Charge your mobile the night before.
Prepare your camera. Take empty memory cards or new films for your camera and check the batteries. If you're a keen photographer, strip a tripod to your backpack as light conditions are often low.
Stay warm. Remember that Katoomba is about 1,000 metres above sea level - it can be much colder than in Sydney. Pack a light rain coat or anything similar to keep you warm.
Walking tracks around Katoomba
I have walked these tracks personally. Check out my detailed description with tips.
Blue Mountains survival tips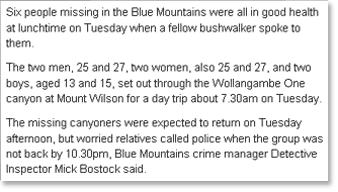 Bush walking tragedy. Six young friends set out to go canyoning but only five were found alive [1].
Although the Blue Mountains are close to 'civilisation' people do get lost and people do die out there. Here are a few tips to help you survive an emergency.
Before you set off notify a family member, ranger or police station about your walking route. Remember that mobile reception is not guaranteed even on tracks relatively close to towns.
Pack the following things when embarking for a hike. They are all lightweight but might save your life.
Mirror: Helps you signal to other people or rescue parties when you are lost.
Reflective vest: Essential to draw attention to you and contrasts against the bush colours.
Waterproof jacket: If you need to spend a night out there or if conditions are wet it helps you retain body heat.
Condoms: Not for what you think. Condoms are extremely expandable and can hold lots of water when you need to carry it.
Backpack cover: Keeps your bush walking equipment dry.
What about bush tucker?
Romanticized notions lure you into trying to apply your 'Indigenous bush tucker knowledge' if you're lost and feel hungry.
Don't. Chances are you don't know if the plant is poisonous, if you need to cook it or keep it in water overnight to make it edible.
Put another way: You can survive four to six weeks without food but, depending on the outside temperature, only a few days without water.
Recommended reading

A Day In The Bush by Les Higgins and Tony Rodd. Covers basic rules while hiking in the bush and has chapters on walks along the coast, on the Hornsby and Woronora Plateaus, and a large section on the Blue Mountains.
Gregory's Blue Mountains map has both overview maps and detailed maps of tourist attractions along with information to the popular places. I used this one on my tours.