Walk details
Duration: 0.5 to 1 hour | Length: 1km return | Difficulty: easy
The Gully Walk is a fairly recent addition. It was opened in February 2013 and details the story of the Gully in Katoomba pre and post-European contact.
Entry is from Gates Avenue, Katoomba.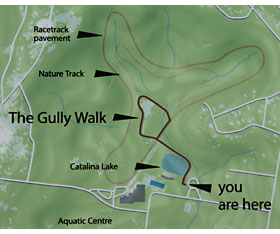 For some the Gully Walk is "the best interpretive walk" they have seen in Australia. Here are some of its highlights:
It tells the tragic story of the Gully in a compelling and sensitive manner.
It is only half a kilometre from Katoomba Station.
It is one of the best places to just sit and soak in the scenery.
It is wheelchair accessible.
It is ideal for children and seniors.