Bennelong Point (Opera House)
A memorial place with no memorial
The site of the Opera House used to be a small island connected to the land at low tide. It had two large middens. Aboriginal people used it as a place for ceremony and feasting [1].
Interestingly, today it is again a place of ceremony (performances) and feasting (food court) and the Opera House looks like the shells you would find in a midden.
The Aboriginal name of the site is warrang, meaning 'scars in the back', because it used to be the place where young boys were initiated, part of which involved scarring their backs [1].
Fact "Bennelong Point" is actually a wrong name for this site. Woollarawarre Bennelong was a Wangal man, but this is Gadigal land—so it wasn't even his country. Wangal country is believed to have stretched from what is now Darling Harbour west to Rosehill [2].
Capture of Aboriginal people
In 1788 and 1789 the British tried to establish communication to and learn the customs from the local Aboriginal people. They hoped that through the capture of Aboriginal people they could succeed in teaching them English and train them as go-between.
Bennelong (c1763-1813) from the Wangal clan, custodial owner of Goat Island; was kidnapped by Governor Phillip with Colebee in November 1789. Bennelong escaped in 1790. He lead negotiations for peace after the Governor's spearing at Manly. The Governor took him to London in 1792. Bennelong died at Kissing Point.
Baluderri (c1774-1791) acted as an interpreter.
Arabanoo (c1759-1789) was seized on 31 December 1799 at Manly. Governor Phillip ordered his kidnapping to learn the local Aboriginal language. Died of smallpox.
Naubaree Baluderri (c1781-1821)
Abaroo (or Burung) (c1775-?)
Bungaree (c1775-1830)
Daringha Barangaroo (?-1795), wife of Colebee.
Colebee (c1759-?) from the Cadigal clan; kidnapped aged 35 with Bennelong, Governor Phillip wanted to find food sources.
Here my people chanted—their stories of the dreamtime—of the spirit heroes—and of earth's creation—and our painted bodies flowed in ceremony.—Ben Blakeney, Aboriginal actor, during the opening ceremony of the Opera House [3]
Governor Phillip and Bennelong
Governor Arthur Phillip and Bennelong developed a deep affection for each other, calling themselves father (Phillip) and son (Bennelong). It was speculated that this close relationship could only develop because Phillip was missing the same upper front tooth which was removed from the mouth of young Aboriginal men during an initiation ceremony in Sydney Cove. However, other sources describe this relationship as a love-hate with both the Governor and the settlement.
In 1790 Bennelong asked Phillip to build him a hut on what became known as Bennelong Point, today's site of the Opera House.
His intermediary skills helped the British to communicate and trade with Aboriginal people.
Despite escaping from the British capture, Bennelong maintained the relationship with Phillip and continued to act as a mediator between the invaders and the Aboriginal people. He was eating at Phillip's table, received gifts and even travelled with him to London in 1792.
After growing increasingly homesick and ill through alcohol, Bennelong returned home and was shunned not just by his own people but also by the British [4]. That exile drove him to the north side of the Parramatta River where he became friends with a local brewer.
Bennelong loved Barangaroo
Bennelong had a second wife, a Cadigal woman called Barangaroo, a Cammeraygal fisherwoman, an influential community member, who is described as a 'forceful, attractive' and 'determined and independent'.
For much of her lifetime, Barangaroo controlled the precinct near Millers Point and Ballast Point [5].
History books suggest she hated Europeans and was totally opposed to Bennelong's "conciliatory efforts with the invaders and the Governor".
After Bennelong had escaped from Governor Philip's house and lived again among his people for some months, she was extremely distressed about his decision to return there and had the courage to break his spear in anger.
Sadly, when Barangaroo wanted to give birth in 1791 at the Governor's House to maintain links with the land, and to avoid the hospital which she thought of as a place of death, Governor Phillip denied her the right, persuading Bennelong to take her to the hospital where she died shortly after giving birth.
A former wharf precinct on the opposite side of the Harbour Bridge now bears Barangaroo's name. It is the first time a prime Sydney location has been named after an Aboriginal woman and was the popular choice among the public and the selection panel.
The northern cove between the headland park and Central Barangaroo has officially been named Nawi Cove, a reference the Sydney Aboriginal word for the bark canoes used by the local people, as recorded by the early colonists. The small sheltered bay at the park's north adjacent to Moores Wharf, meanwhile, has been named Marrinawi Cove - an Aboriginal word for large sailing vessels. The term "marrinawi" was developed by the Aboriginal people to first describe the First Fleet ship Sirius, but later used in reference to other British ships.
Fact Bennelong's family owned Goat Island, the only place in colonial Sydney that, after invasion, belonged to a particular Aboriginal family [6]. Since 1908 the NSW government owns the island.
Bennelong's end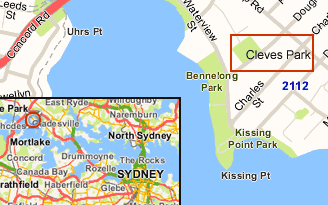 Whilst in London Bennelong became familiar with alcohol. Upon his return in 1795 he found his hut on Bennelong Point demolished and his wife together with another man.
One myth tells how Bennelong got caught between the two worlds and died as a lonely alcoholic on 3 January 1813. But newer research has found this to be wrong:
Instead, Bennelong returned to his tribal lifestyle, leading initiation ceremonies, eventually becoming a leader of an Aboriginal tribe on the Parramatta River. As such he continued to take part in ritual revenge battles and was often wounded. [7]
Bennelong remarried and had a son who was adopted and baptised by a white cleric.
Bennelong spent his last years in the orchard of the friendly ex-convict brewer James Squire at Kissing Point before he died, possibly from a short illness [7].
The brewer he befriended honoured him with a proper burial in his private orchard [4], on the banks of Parramatta River, which today is in Cleves Park (not far from Bennelong Park and Kissing Point Park), Putney. There's a plaque commemorating Bennelong's death in the park.
"While Bennelong suffered from the worst aspects of enculturation, he represents those who tried to change the behaviour of Europeans on Aboriginal lands." (Barani 2002)
I am Bennelong—and my spirit and the spirit of my people lives; and their dance and their music and their drama and their laughter also remains.—Ben Blakeney, Aboriginal actor, during the opening ceremony of the Opera House [3]
More info about Bennelong: findingbennelong.com.
How to get there
The Opera House is opposite the Harbour Bridge. From the bus stops, railway station or ferry wharfs, walk north-east.