Bondi Ben Buckler Aboriginal site
Site description
A turtle is the only figure left from an arrangement of five. The whale and three elongated figures have either been buried by silt or destroyed when the path and staircase were built.
The turtle is about 1.5 metres long and was regrooved by the Waverley Council in 1964 (as were the engravings at the Golf Course). Recent graffiti spoils this piece of Aboriginal heritage.
The earliest recordings of these petroglyphs date back to the late 1890s.
While near Bondi Beach you can also visit two other sites in the vicinity, one at the Golf Course, another at Mackenzies Point.
How to get there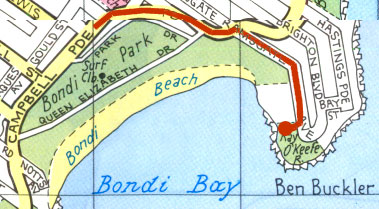 Catch a train or bus from the city to Bondi Junction, then a bus to Bondi Beach.
Follow Campbell Parade (right in front of the shops), then walk east along Ramsgate Avenue.
When you are past the last block turn right and cross the patch of lawn. At the first wooden staircase you'll see the engraving.