Bondi Mackenzies Point Aboriginal site
Site decription
When I visited in December 2004, the engravings appeared fairly fresh. Like at the Bondi Golf Course the grooves have been regrooved by the Waverly Council.
Close to the head there's a fish entirely inside the whale. Maybe the fish represents a catch of the whale or a young whale.
Also, the 6-metre whale has a single line running around its waist. This could hint to the whale representing an initiated creature. Similar lines are shown at the engraving site near Bundeena, Royal National Park. One fin of the whale disappears underneath the walkway - and one can speculate whether this is due to ignorance towards this ancient heritage.
If you like you can continue to follow the walkway to Bronte Beach and catch a bus back from there.
While near Bondi Beach you can also visit two other sites in the vicinity, one at Ben Buckler, another at a public Golf Course.
How to get there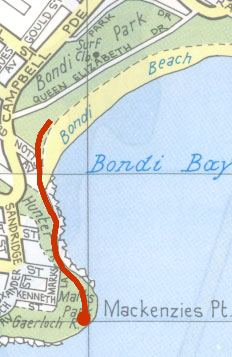 The engravings are at the cliff's edge, next to the footpath.
Catch a train or bus from the city to Bondi Junction, then a bus to Bondi Beach.
If you walk to the southern end of Bondi Beach you'll come to steps. Climb up the steps and turn left.
After roughly 80 metres the Bondi to Bronte walk starts to your left. Follow this walkway, which winds along the coast.
After a particularly steep step (with a lookout just before it) you have reached MacKenzies Point. A few metres further south there's a large carving on the left right next to the footpath.