Western Australia
While travelling Western Australia you are off the beaten track. And that is good, because you can explore its beauty minus the usual crowds you meet at the east coast.
Travel along the west coast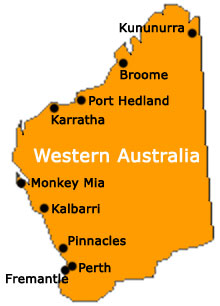 Australia's south-west
Travel through south-west Australia taking an usual route: Follow the trail of an old Aboriginal Dreamtime story of this region as told by the Nyoongar people. On your way you pass through the places where I've been travelling. Story published with kind permission.
Alternatively you can select any of the places on the map or in the list below.
The Carers of Everything
This story begins here, in the south west of Western Australia, it begins at a time when the Earth was flat and featureless, there was nothing on it at all, there was almost total darkness. The sky was this thick dark mass that sat heavily on the ground, there was no wind, and it was freezing cold, this time is known to local Aboriginal people as nyetting, the time when it was (freezing cold).
In the dim darkness the spirits wandered, they wandered around some of them drifting into and out of reality. Today, we know this area as Bibbulmun country. All the land south and west of a boundary line that runs approximately from Geraldton to Merredin and on almost to Esperance.
Not all places I have visited are ready yet. Come back and check if this has changed in the meantime.
Albany: The first settlement in Western Australia and gateway to a beautiful country.
York: West Australia's oldest inland and a celebrated historic town.
The bold places in the following map are clickable: