Broome is named after Sir Frederick Napier Broome, Governor of Western Australia from 1883 to 1889. It is located at the western side of the Kimberleys, 1,148 kilometres from Kununurra.
The Aboriginal name for the area is Nileribanjen.
Population: 10,000. Distance from Perth: 2,350 km.
Broome. The main road in Broome is tranquil and quiet at midday.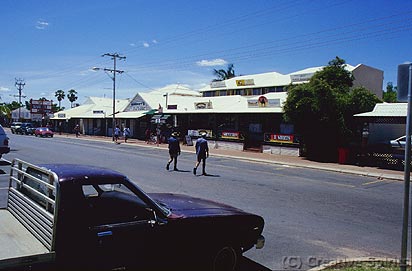 Broome also features the Short Street Gallery, a small gallery located in a building dating back more than 100 years which has strong links with the Aboriginal, Malay and Japanese history of the old pearling town.
Local stories

WWII 1942—Broome was being evacuated. Aboriginal families were being trucked to Beagle Bay Mission under the care of the German brothers and Irish nuns. Betty Lockyer's mother was on the last truck to leave Broome on 17 February.
Last Truck Out is a fascinating account of Betty's early years at Beagle Bay and Broome. With an Aboriginal mother and an Asian father, she tells of a childhood governed by strict assimilation policies, yet infused with a potent mix of cultures and religion.