Aboriginal communities (Dampier Peninsula)
You can visit some communities but not all still practise their traditional customs.
The Dampier Peninsula is of special significance to the Catholic Church because it was from here that it began to spread through the rest of the Kimberley region.
Beagle Bay
This community is located 120 kilometres from Broome. You'll have to drive on an unsealed road most of the time, making the trip strenuous. In the centre of the community there's a beautiful church, built of stone (!) from 1914-1918 by German Pallottine monks, who settled here around 1901.
On entering the Sacred Heart Church you can see a stunning pearl shell altar. Coloured windows create a special mood in the building. Adjacent to the church are the school grounds and the community store. You can take bush tucker or join mudcrabbing tours.
The community's name was derived from the vessel "Beagle", which moored at the bay when the priests were looking for a suitable mission place in 1889.
Local stories

WWII 1942—Broome was being evacuated. Aboriginal families were being trucked to Beagle Bay Mission under the care of the German brothers and Irish nuns. Betty Lockyer's mother was on the last truck to leave Broome on 17 February.
Last Truck Out is a fascinating account of Betty's early years at Beagle Bay and Broome. With an Aboriginal mother and an Asian father, she tells of a childhood governed by strict assimilation policies, yet infused with a potent mix of cultures and religion.
Beagle Bay mission. Administration building.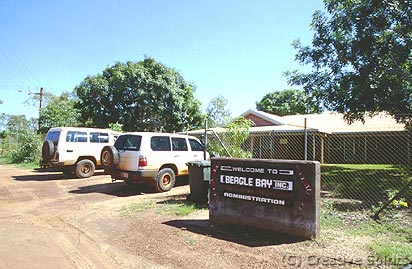 Lombadina-Djarindjin
Some 200 km from Broome, these are two communities very close together with about 60 Aboriginal (Bardi) people. Lombadina was first settled in the late 1890's by Thomas Puertiollano who sold the land to the Catholic Church. The name "Lombadina" was originally a mispronunciation of the Aboriginal word "Lullmardinard" by the priests and brothers who settled there. (Lombadina Aboriginal Corporation)
The community features a church totally different from the one in Beagle Bay. Built by the Aboriginal community in 1934, it is made out of local materials, such as wood, corrugated iron and paperbark. Inside the church is simple, giving enough room for what you normally do in churches. Next to the church there's a nice little park with old trees. The community offers besides mudcrabbing and bush tucker tours a trip to the beaches where you can see ancient footsteps preserved in old sedimental layers. Artefacts are for sale in a small workshop.
Basically, the locals all enjoyed how difficult it was to get to [Lombadina], as it kept people away and left the place the peaceful oasis it was.—A teacher living and working at Lombadina