Cable Beach
Cable Beach is a famous spot to unwind and watch the sunset.
Origin of the name
Cable Beach got its name from a cable that used to link Broome with Java. From Broome the communication was transferred to telegraph lines as far as Perth. The cable was abandoned in 1914.
Getting there & back
You'll have to take the bus for Cable Beach, as it is six kilometres out of town. The hostel sells reduced tickets.
Take the last bus back, or even better, ride a bike. That will let you enjoy the sunset without any hassle. It's really worthwhile, as the wet sand beautifully reflects the orange-red rays of the setting sun. Romantic souls can sit on the wooden bars atop the beach and watch the sun unfold its beauty.
Cable Beach. Let yourself be seduced by this beauty.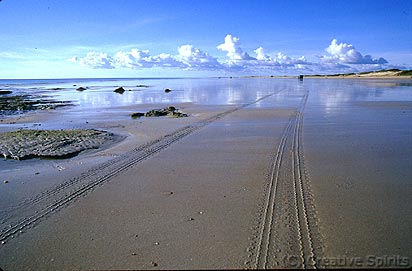 Sad fate of a beauty
This used to be one of the best bathing beaches… until cyclone "Rosita" hit Broome on Thursday, April 20th 2000. A lot of sand has been washed away; debris was lying all over the beach. But now, according to locals, the beach invites with a renewed beauty.