Japanese and Aboriginal Cemetery
This cemetery not only has many graves of young pearl divers but also a small Aboriginal section.
Blackbirding
Broome's history is one of pearling. In the early days, Aboriginals were "blackbirded" as pearl divers.
Blackbirding was a common practice used by white people in the West Kimberley region from the late 19th century. They simply kidnapped Aboriginal people and traded them as divers and crew for pearling luggers.
Up to 60 of them had to work on a lugger. The Aboriginal people dived for the pearl shells to a depth of 12 metres without any equipment. Many died from the stress and the working conditions, especially women.
Later, Malaysian and Japanese men replaced Aboriginal divers, but Aboriginal people continued to work in the industry, on luggers and sorting pearl shell.
Japanese Cemetery. This diver only got 25 years old ...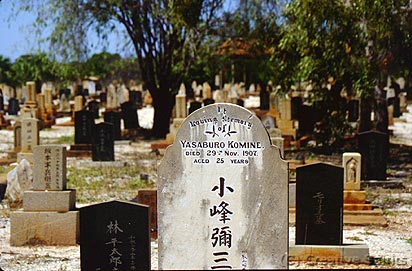 150th Blackbirding anniversary marked in Queensland
2013 marked the 150th anniversary of blackbirding, a notorious episode in Australian history. Many South Pacific islanders were kidnapped from their home islands to work Queensland's cane fields.
Descendants of the victims have marked the anniversary by calling for an apology. Over 4 decades, more than 60,000 Islanders were tricked or forced into becoming slave labourers in Queensland.

Where to find the Aboriginal section
The tombstones show that many divers died young. While the Japanese section is easy to find, the Aboriginal section can be found approximately 50 metres south of the Japanese. The graves have Christian crosses and belong to two families of the region. Explicit pearl diver's graves cannot be found here.