Malcolm Douglas' Crocodile Park
Malcolm produces the well-knows TV series "In the Bush with Malcolm Douglas" which is very popular in Germany.
If you're ever in Broome, visit this crocodile park - it's really worth it! You'll get the "I'm scared"-factor for free observing 5m-crocs basking in the sun which have been caught because they killed a horse…
Feeding tours (highly recommended!) are scheduled daily at 3.45pm. The park is open daily 3.30pm to 5pm.
Malcom Douglas on TV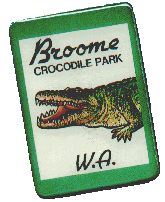 Malcolm's German TV series Unterwegs mit Malcolm Douglas is well known in Germany. It runs on the German channel Kabel 1.
Australian TV broadcaster Channel 7 screens the English series which is called Walkabout with Malcolm Douglas (click link for an episode guide).
Some episodes also screened in the The World Around Us series.
About Malcolm Douglas
Malcolm revealed more details in an interview recorded by Kabel 1 in July 2002 when he visited Germany:
The best reward for my work is the pleasure my films create for viewers—in Australia since almost 30 and in Germany since about 10 years.—Malcolm Douglas
Douglas is a "real character", with the sort of colourful life many Australians have the courage to lead, not worrying too much about papers and seizing opportunities as they come up.
Malcolm's brother about Malcolm
Stuart Douglas, the younger brother of Malcolm, tells the story of when they grew up in Nauru.
Malcolm had borrowed a spear from the family's houseboy after promising him he would look after it. However, after an attempt at spearfishing , the spear got lodged in a fish and sank to the bottom.
"Malcolm dived and dived and dived and he got it and when he came up, blood started coming out of his ears and nose," recalls Stuart.
But he had promised the houseboy the spear would be okay. [1]
I wonder when he's going to get a proper job.—Malcolm's mum about Malcolm [1]
Wie Malcolm zu den Krokodilen kam (German)
Schon in der Schule fiel Malcolm auf, weil er ständig Käfer, Frösche und andere Tiere mit in den Unterricht brachte. Seine Liebe zur Natur wird in lebenslang begleiten. Doch der Weg war nicht immer leicht. Mehr…
Contact Malcolm's Crocodile Farm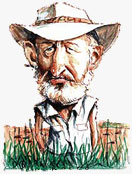 Broome Crocodile Farm
PO Box 5500, Cable Beach, WA 6726
Cable Beach Road, Broome, WA 6752
Phone (08) 9192 1489
Fax (08) 9192 1489
.(JavaScript must be enabled to view this email address)
Sadly, Malcolm Douglas passed away on September 22, 2010, when he became pinned between the door of his four-wheel-drive and a tree [1]. He was 69 years old.
Known titles of Malcolm Douglas' series
This series was produced from 1976 to 1992 with a total of 48 episodes. A video tape edition of the series was never published in the American or German market, but you can order his DVD series.
If a series consists of multiple parts the number is added in brackets.
| German title | English title | Episode guide |
| --- | --- |
| Abenteuer in Tasmanies rauher See | Bass Strait adventure |
| Abenteuer Kimberley (1-6) | Kimberley adventure with Malcolm Douglas (1-6) |
| Abseits des Highway Nr. 1 (1-6) | Around Australia with Malcolm Douglas (1-6) |
| Am anderen Ende der Welt | North from Broome |
| Anleitung zum Krokodilfang | Catching crocodiles |
| Auf menschenleeren Flüssen (1-2) | Canoes in the Kimberley (1-2) |
| Auf sich allein gestellt (1-2) | Survival in the outback with Malcolm Douglas (1-2) |
| Australien wilder Nordwesten | The wild North West |
| Das große Flußabenteuer | The big river adventure |
| Das überflutete Paradies (1-2) | One wet season (1-2) |
| Dem Barramundi auf der Spur (1-4, I-II) | In search of the big Barra with Malcolm Douglas (1-4, I-II) |
| Der Norden ist heiss (1-2) | Across the top (1-2) |
| Der Norden ist heiss - Ein Wiedersehen (1-2) | Across the top again (1-2) |
| Der Sonne nach (1-2) | Follow the sun (1-2) |
| Der Todesmut der Perlentaucher (1-2) | The pearling coast (1-2) |
| Die Aborigines an der Arafura See | Islands of Arnhem Land |
| Die große Abgeschiedenheit | Over the range |
| Die letzten ihres Stammes | The last of a tribe |
| Die Spur der Brunnen | The Canning Stock Route |
| Die Suche nach dem Warabi | Journey to Bigge Island |
| Die Tropenstadt am Meer | Life in Broome |
| Ein Leben mit Krokodilen (1-6) | Malcolm Douglas living with crocodiles (1-6) |
| Einsames, schönes Land (1-4, I-II) | My country the Kimberley (1-4, I-II) |
| Faszination Australien: Die Korallenküste (1-2) | The Coral Coast with Malcolm Douglas (1-2) |
| Im Land der Langboote (1-4) | Land of the long canoes (1-4) |
| Im Land der roten Dünen (1-2) | West of the Rock (1-2) |
| Im Paradies der Meeresschildkröten | Beyond the Kimberley |
| In den Schneefeldern Australiens (1-2) | A season of snow (1-2) |
| In der Heimat der Ureinwohner | Journey into yesterday |
| Kakadu und Kimberley (1-4, I-II) | Kakadu to the Kimberley (1-4, I-II) |
| Lebensraum Wüste | Men of the desert |
| Mit dem Kanu durch die Bergschluchten (1-2, I) | Canoes in the Kimberley (1-2, I) |
| Mit Malcolm Douglas im australischen Busch (1-4, I-II) | In the bush with Malcolm Douglas (1-4, I-II) |
| Niugini - Neuguinea | North to Niugini |
| Rückkehr in die Wüste | Return to the desert |
| Sommer auf Tasmanien (1-2) | One summer (1-2) |
| Über die Sandbank (1-2) | Crossing the bar (1-2) |
| Überleben im Outback (1-4, I-II) | Survival in the outback (1-4, I-II) |
| Verloren in den Sümpfen (1-2) | The Macquarie Marshes (1-2) |
| Wege in die Einsamkeit (1-4, I-II) | Along the track (1-4, I-II) |
| Wiedersehen mit dem heißen Norden | Return to the top |