Pearling history
Pearls once brought wealth to Broome, but when plastic was invented Broome had to look for a new industry.
Broome's evolution
Chinese people have long been in Australia. They were originally attracted to this region by gold findings in Cossack, 15 kms west of Roebourne. As the deposits eventually declined, they tried mother-of-pearl, but the harbour silted up. At Roebuck Bay they found a new site for a harbour and Cossack became a ghost town while Broome flourished.
Broome, Willie Creek Farm. A beautiful piece of carved mother-of-pearl.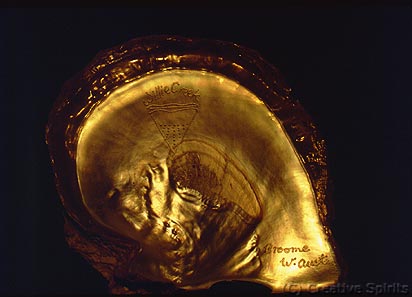 Pearls replace mother-of-pearl
During the 50s plastic was invented, and it was Broome's turn to become a ghost town. There was no more interest in the expensive mother-of-pearl, for example from the button industry. It was not until the first pearl farm was established that Broome began to flourish again. The first harvest of pearls was sold in the 60s. More and more pearl divers were needed to meet the demand.
A little-known fact is that to keep the luggers upright, many of them carried tons of almost pure iron ore as ballast. The source of this rich mineral deposit was a few hundred kilometres to the north of Broome, in the Buccaneer Archipelago, at Koolan and Cockatoo Islands. To this day, lumps of the glistening ore from the old luggers can be found scattered along Broome's foreshore at low tide. (Today the major source of iron ore is the Pilbara region, and a major port is Port Hedland.)
Broome, Willie Creek Farm. Even heart-shaped pearls are possible, if the seed is of this form.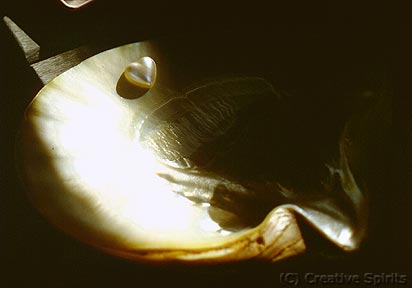 Read the personal stories of a former diver
Ali Drummond, an Aboriginal man now in his 90s, recalls his life in the Torres Strait and how he became an expert diver for pearl shell, trochus and bêche-de-mer.
Book: Life B'Long Ali Drummond
The Asian divers leave
During the 70s a more efficient method for pearling was developed, doing away with the heavy diving equipment used up to then. Many divers, including Chinese, Malaysians and Japanese, were redundant. They sold their businesses and left Australia to return to their families. This is why so very few remain in Broome, and its often praised "internationality" is not all that apparent.