Fremantle (Munjaree, Walyalup)
It was Captain James Stirling who chose to name the little settlement "Fremantle" after Captain Charles Fremantle who, just a month before, had taken possession of "all that part of New Holland which is not included within the territory of New South Wales".
The Aboriginal name of the town is Munjaree or Walyalup.
"Freo" as the locals call it is the harbour of Perth - and more. When you're fed up with the busy city, its skyscrapers and traffic, catch the train for the 20-km-trip to Fremantle and enjoy a coffee on the Cappuccino Strip in this tranquil city.
Population: 25,000. Distance from Perth: 20 km.
Fremantle. The town hall features Fremantle's symbol, the Black Swan.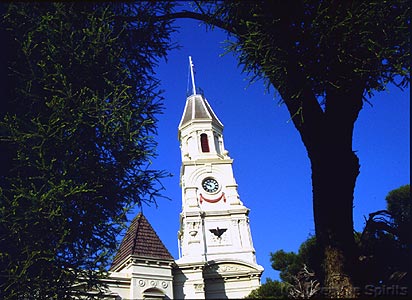 Walyalup Moort
In September 2003, the City of Fremantle and the Nyoongar Patrol System launched a "Walyalup Moort" ("Fremantle Family"). Ten local indigenous staff stay in contact with the businesses and defuse conflicts with the aim to reduce the number of Aboriginal people who come into contact with the criminal justice system.