Waringarri Aboriginal Arts
An art gallery where you can buy locally crafted paintings for reasonable prices.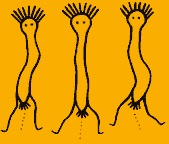 Waringarri Aboriginal Arts is an Aboriginal owned and operated art gallery. You'll have to walk or drive out of town in northern direction (approx. 15 minutes on foot). The gallery offers a small range of paintings, carved emu eggs and other Aboriginal artefacts.
Some of their artists, however, are widely known, such as Queenie McKenzie, Rover Thomas Joolama or Nellie Gordon.
Waringarri Aboriginal Arts
Speargrass Road
Kununurra WA 6743
phone (08) 9168 2212
fax (08) 9169 1044
.(JavaScript must be enabled to view this email address)