Monkey Mia Resort
While everyone hustles to the dolphins I can offer a beautiful alternative which leads you back 1,000 years into Aboriginal history.
It could well be that you've never ever heard of Shark Bay but know "Monkey Mia" very well. Brochures describe it as a "unique place where friendly dolphins come into the beach to interact with people" and for this purpose a "Dolphin Interaction Area" has been established. If you ask me it's a unique place where friendly business people came into the land to interact with people's wallets. It is very touristy; however, you've still got some chances to escape the crowds.
I guess I mustn't say anything to the dolphin issue, must I?? Well, if you ask for it…
"Dolphin Interaction Area"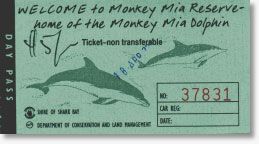 About two times during the morning one or more dolphins approach the beach and wait to be fed. They are wild animals but used to this feeding procedure since the 1960s. In order not to provide the dolphins with their daily fish intake of about six kilos, only one third is fed to them.
Rangers distribute the fish and allow single persons to hand over a fish to a dolphin. Lucky you if you're the one! The rest of the crowd films and photographs the event, as tourists do.
Book covering Monkey Mia

Michael J. Roads gives a detailed description of an encounter with dolphins which happened here at Monkey Mia in one chapter of his book Journey into Nature - A Spiritual Adventure. He meets a female dolphin at a spiritual level and describes how he dives into her world, simultaneously experiencing the death and the birth of a dolphin.
His visit was way before 1989 and somehow obliges to a smile when he talks of Monkey Mia being "nothing more than a remote camping site [...] in a rough, inhospitable landscape which could as well exist on a different planet." Mind you how this has changed!
Monkey Mia walking trail
Less known to tourists, a very interesting walk has been built through the scrub right next to the resort. It only covers 1,500 metres but leads you through an interesting landscape where you can observe local fauna and flora (the former only if you're walking silently and alone), enjoy some lookouts and examine a small cave.
The cave, which is indeed very shallow, has been excavated by archaeologists in the 1980's. Charcoal and shellfish remains have been uncovered there showing that Aboriginal people used this cave as shelter more than 1,000 years ago. This might seem pretty recent compared to Aboriginal history dating back as far as 40,000 years. Consider, however, that the whole peninsula emerged from under the sea just 12,000 year ago and Aboriginal life is not older than 4,000 years.
When I was strolling through the bush I saw not only a lot of birds but also a wild Emu looking for water. I really advise you to walk on your own and do it early in the morning before more people get the same idea. Ample photo opportunities with the colours of Australia reward you. You'll find white sand from the sea, red sand from the land, green bushes and blue skies. What more do you need?
Monkey Mia returns to Aboriginal ownership
Since June 2002 the resort is half owned by local Aboriginal people. The Yadgalah ('Yaj-al-a') Aboriginal people own 23%, Indigenous Business Australia owns 27% and the previous owners 50%. The federal Minister for Indigenous Affairs, Philip Ruddock, launched the joint venture. The Yadgalah people are part of the Malkana people who originally inhabited this region. They are represented by the Yadgalah Aboriginal Corporation (YAC). The YAC already operates a mini golf centre at Denham.
The resort is valued at A$ 13 million and attracts more than 100,000 visitors per year.
Dugong spotting
When you're tired of all the dolphin hassle, book a tour on one of the two catamarans and relax. When the sea water is still quite warm (20°C and over) you might want to spot the dugongs.
There are about 10,000 of them in Shark Bay, the second-largest population worldwide and 1/8th of the world's total population. Dugongs were the prey of the very first humans to set foot on Australian soil: Melanesian fishermen who migrated slowly from Papua-New Guinea to the Cape York Peninsula. Dugong hunting sites have been found at Cape York where the animals were speared.
The dugong cruise you take normally includes a sunset tour as well which is really breathtaking and the best way to conclude the day.