Australian Aboriginal history
Selected statistics
2,000..3,000

Number of settlers, police and soldiers who died in colonial conflict [13].
20,000

Number of Aboriginal people who died in colonial conflict [13].
List of short articles
Where is Aboriginal history?
"Australian history started with Captain Cook," is what a lot of people, even today, tell me when asked what they learned at school. Secondary history books, published just a few years back, sometimes brush over Indigenous history in twelve pages only.
Until we get it right with the teaching of Aboriginal history, then I don't think that we can pretend to be Australians together.—Dr Jackie Huggins, Indigenous educator, author and activist [1]
In the 1950s Aboriginal history was virtually absent from school curricula. Historian Henry Reynolds remembers well how he learned about the frontier violence from students—not books.
"The extraordinary thing was that as I became every day aware of the whole question of Indigenous Australians… there was nothing in the book. I mean, the Aborigine didn't even make the index. They weren't in the history." [13]
When I studied history at the ANU in the 1970s there was still a widely held view, and I think it was the conventional view, that there was no Aboriginal history.—Marcia Langton, Aboriginal author [2]
According to Reynolds, the Australian public only became aware of frontier violence and the censorship of Australian history in the late 1960s with the Boyer lectures of anthropologist Bill Stanner, titled After the Dreaming [13].
There is the truism, 'Australia's history is never read, the black man keeps it in his head.' White Australians ensured it remained there.—John Pilger, journalist and author [12]
What does "black-armband" mean?
"Black armband" is a term coined by the Australian historian Geoffrey Blainey and later used by the former prime minister John Howard.
Critics use it to refer to a desire to place undue emphasis on unsavoury and violent aspects of Australian history at the expense of the positives of European settlement [13].
How old is Aboriginal culture?
Aboriginal history is the only history that grows both ways - forward into the present and backwards into the past as new scientific methods indicate that archaeological sites are much older than originally thought.
The origin of the Aboriginal people of Australia is not entirely clear. Some studies link Aboriginal people to the first African nomads or to Siberian ancestors [5].
One study determined that Aboriginal people descended from the first people to leave Africa up to 75,000 years ago, reaching Asia at least 24,000 years before other human migrants. Traversing into Australia "must have demanded exceptional survival skills and bravery," said one researcher [5].
Another study found that a primitive group of humans descended from the Neanderthals and migrated from Siberia to tropical parts of Asia [5]. They contributed DNA to Aboriginal people in Australia along with present-day New Guineans and an Aboriginal tribe of the Philippines. This mixing of genes was reported to have happened 44,000 years ago, before Australia separated from Papua New Guinea.
As scientific methods evolve they place the origin of the Homo Sapiens in Australia—not Africa.
Professor Rebecca L. Cann, together with her colleague Alan C. Wilson, previously claimed that humanity can be traced to people living "about 200,000 years ago, probably in Africa". But she later revoked that claim, declaring that "Mitochondrial DNA puts the origin of Homo Sapiens much further back and indicates that the Australian Aborigines arose 400,000 years ago from two distinct lineages, far earlier than any other racial group." [14]
Research by other scientists supports the theory that Australia's Aboriginal people did not descend from ancestors in Africa - or Siberia. Humanity could have started in Australia…
The following table shows the estimated age of archaeological sites in Australia [15].
How old?

| Site | Location | Estimated age |
| --- | --- | --- |
| Ganga Maya Cave | Pilbara, Western Australia | 45,000 years |
| Malakunanja | Rock shelter, Arnhem Land, NT | 45,000 years |
| Devil's Lair | Limestone cave, south-west Western Australia | 41,000 .. 46,000 years |
| Lake Mungo | Dry lake basin, Willandra Billabong Creek, western NSW | 43,000 years |
| Nauwalabila | Rock shelter, Arnhem Land, NT | 40,000 years |
If it wasn't for the footprints…
If it wasn't for the footprints, we would not know about 'before',
And Australia's history we have today would not make sense anymore.

If it wasn't for the footsteps, which created the path we share,
Our survival in this landscape would lead us to nowhere.

If it wasn't for the footpaths still here from that long ago,
Our heritage in writing would only reflect our woes.

If it wasn't for the footprints which were made into the sand,
The ones left by ancestors, our Aboriginal clans;

If it wasn't for their footsteps which carved the land and lore,
Australians would not know about these footprints from 'before'.
Poem by Z Quakawoot [6]. Read more Aboriginal poetry.
Apartheid in Australia
Definition of 'apartheid'
Apartheid is an official policy of racial segregation involving political, legal, and economic discrimination against a minority, usually a country's aboriginal people.
It is also used to describe a policy or practice of separating or segregating groups.
Apartheid is most often associated with the Republic of South Africa (introduced in 1948, officially renounced in 1992). Few know it also happened in Australia.
Australian journalist Ray Martin, who also has Aboriginal heritage, remembers: "No question about it [having apartheid in Australia]. Aboriginal families herded into rough, town camps on the other side of the river, without electricity and with communal taps. Aboriginal people segregated on a Saturday night, squatting on the floor down the front of the local picture theatre. Aboriginal boys - who were the same age as me - being "hosed clean" by the lifeguards at the public baths, before they were allowed to jump in the pool."
"In Leonora - out in the Kalgoorlie goldfields - I watched as Aboriginal women waited for hours in the dust and scorching sun outside the District Hospital, while white women drove up in their Land Rovers and were immediately treated by the Flying Doctor. The stories were endless." [16]
Journalist John Pilger recalls watching "security guards expel Aboriginal people from shopping malls in Alice Springs." [17]
But Ray has worse memories of Australia's apartheid.
"As a young reporter, I remember a whitefella in Narrandera telling me the story of being taken by his father and uncle on 'a hunting party' one Sunday morning - to shoot Aboriginal people." [16]
The last mission in New South Wales
In July 2010 Warangesda Mission and Station received heritage listing. The station, just outside Darlington Point in the Riverina District of New South Wales, is located about 630 kms south-west of Sydney.
Warangesda Mission is the only mission left in NSW that still has a suite of original buildings. The heritage area includes the mission block and cemetery [4].
Warangesda is the last known location of an initiation ceremony for the local Aboriginal population and the site of a strike in 1883. At its peak it was home to more than 200 Aboriginal people.
Tip The Australian Institute of Aboriginal and Torres Strait Islander Studies (AIATSIS) highlights almost 60 years of life on missions and reserves in their online exhibition Remembering the Mission Days. Digitised copies of two magazines published by the Aborigines Inland Missions of Australia reveal the hidden histories of the lives of thousands of Aboriginal people.
The Coniston Massacre
Australia's history is littered with massacres white people did to Aboriginal people. The Coniston Massacre happened in 1928 at Baxters Well, about 200kms north of Alice Springs in the Northern Territory, after the murder of dingo scalper Frederick Brookes at Yurrkuru (Brooks Creek) [8].
Brookes was killed by an Aboriginal man named Bullfrog (traditional name Japanangka), who it is believed was angry that his wife was staying with Brookes.
Constable George Murray led reprisal parties against Aboriginal people over a wide area between August and October 1928. During attacks more than 30 Aboriginal people were killed, but unofficial estimates put the number at more than 60.
Many more Aboriginal people fled the area, never to return. Bullfrog hid in a cave and was never captured by Murray's party [8].
80 years later a memorial commemorates the massacre, built by Aboriginal volunteers.
We're not bitter. We just want everybody to know and to acknowledge this black spot in Australian history. This is what they call hallowed ground, like Gallipoli is for white fellas.—Geoff Shaw, Kaytetye man, during the opening of the memorial [8]
Was Australia invaded or colonised?
Aboriginal and non-Aboriginal people have different views whether Australia was 'invaded' or 'colonised'.
While most Australians are proud of the history of the Anzacs, i.e. the invasion of Turkey at the behest of the British, they are very reluctant to acknowledge the British invasion of Australia [9].
In 2011 Sydney City officially declared the settlement of Australia an invasion. The word was to be included in the Aboriginal statement for the council's 10 year corporate plan.
But a poll of more than 2,000 readers of the Daily Telegraph found that less than 15% agreed with the council's decision. More than 85% rejected it [7].
We must now assert in the strongest possible way the message that Australia was indeed invaded by a military force under the control of the British Admiralty.—Michael Ghillar Anderson, Aboriginal elder [3]
Australia was not settled by the common law but by the rules and disciplines of war.—Wadjularbinna Nullyarimma, Gungalidda Elder [10]
The settlement of the British was not peaceful, and is increasingly accepted as being a countrywide invasion.—Information leaflet, NSW Department of Indigenous Affairs [11]
We were invaded. It is the truth and shouldn't be watered down.—Paul Morris, head of the Metropolitan Local Aboriginal Land Council, Sydney [7]
In respect to the Aboriginal community, ["invasion"] is something that is very important and needs to be used.—Lord Mayor Clover Moore, Sydney [7]
While we restore old monuments and construct new ones to commemorate military conflict overseas, there are still no official memorials to those who died on the frontier [of Australia's Aboriginal wars].—Henry Reynolds, Marilyn Lake [9]
Aboriginal history resources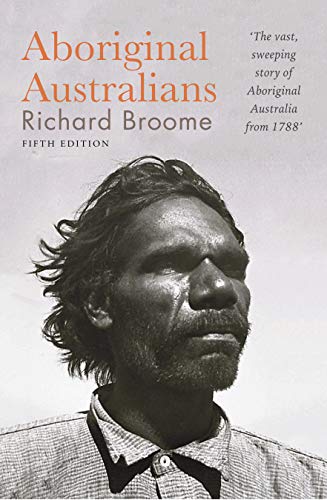 Praised as "one of the key general texts about Aboriginal people" this history book takes on the Aboriginal perspective—a rare treat. The 4th edition of "Aboriginal Australians" includes events up to the 2008 apology to the Stolen Generations.

If you want to read about Aboriginal history from the 1850s to the mid-1980s I can highly recommend Rosalind Kidd's book "The Way We Civilise".
To my mind it's Australia's missing history book on Indigenous history.

Aboriginal Victorians tells the story of the impact of European ideas, guns and a pastoral economy on kinship, trade and cultures of the Aboriginal peoples of Victoria.
A very good resource is the Aboriginal-owned website The Koori History Project which has articles, cartoons and videos about significant historic events.