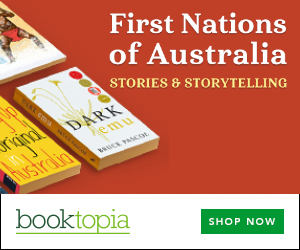 Summary
Desert Dog is based on a true story about a dog who lived with Aboriginal artist and ex-stockman Jimmy Pike and his family in the Great Sandy Desert during the 1940s and early 1950s.
Desert Dog recounts events from the dingo's point of view. Spinifex, a dingo pup, is taken from her lair to live with humans as they move across their traditional lands searching for food.
This is the story of how Spinifex and her adopted family face the harsh desert environment and adapt to the inevitable changes that occur as a result of the white man's influence.
The well-spaced text is clearly presented, easy to read and supported by colourful full-page illustrations by Jimmy Pike in traditional Aboriginal style. This is a wonderful mix of fact and fiction. The traditional lifestyle and close family ties of the desert Aboriginal people are clearly explained through the story of Spinifex and her human family.
Useful for ages 9 and up. The book covers Australian animals, Aboriginal stories, traditional lifestyles, desert environment.
About the author
Pat Lowe was born in England. After working as a postwoman and then spending three years as a secondary school teacher in East Africa, Pat studied psychology. In 1972 she sailed into Fremantle on a Russian ship, and became an Australian citizen. Pat was transferred to Broome, where she met Aboriginal artist Jimmy Pike, who had grown up in the Great Sandy Desert. In 1986 Pat and Jimmy went to live in the desert for three years. When they were not exploring or hunting, Jimmy continued painting and Pat started to write.
Get a copy now from your favourite trusted store
Disclosure: I get commissions for purchases made through the below links.