Origin

Bendigo, Victoria

Genre/styles

About Anne

Anne Conway is a Wergaia woman who started her musical career when she was still in her teens. After surgery in June 2013 she was left with a speech impediment and ended her singing career.
Discography
Album formats explained Explain formats
Album formats
10": 10 inch vinyl records were played at 45 or 33 1/3 rounds per minute (rpm). The former could hold 9, the latter 12 minutes of music per side.
7": 7 inch records (often referred to as 45s) were played at 45 rpm or 33 1/3 rpm, with about 4:30 or 6 minutes of music per side.
LP: Long play, is a vinyl record played at ​33 1⁄3 rpm with a 12 or 10-inch diameter.
EP: Extended play, are vinyl records that allowed two or even three songs on each side.
Scattered Promises (Cassette)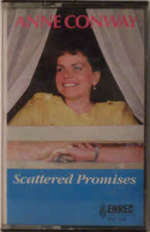 Released

1987

Tracks

All I Needed To Hear (Gallimore, Hobbs, Melius)
Chevrolet (Roger Bowling)
Heartbreak Avenue (Mel Foree)
Wrong Side Of Thirty (Allan Caswell)
Baby Tina (Tania Cassidy)
I Would Like To See You Again (Charlie Craig, Larry Atwood)
Single Again (Charlie Craig, Peter McCann)
Maggie
Sad Songs (Say So Much) (Bernie Taupin, Elton John)
Wino The Clown (Bucky Jones, Curly Putman, Ron Hellard)
The Garden (Allan Caswell)
Right Or Wrong (Wanda Jackson)
---
Singing Straight From The Heart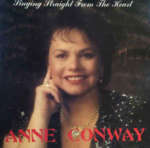 Released

1997

Tracks

Love Potion Number 9
Fooling Around
Someone To Call Me Darling
Too Long Gone
Single Again
Ride On Little Cowboy
'57 Chevrolet
Tears In Heaven
Just A Closer Walk With Thee
Looking For A Lady
I Want To Wake Up With You
If It's Not Love
Yorta Yorta Man
I Just Fall In Love Again
Bad Man Blues
Wino The Clown
What I Really Need Is A Friend
How I Feel About You
The Band Played Waltzing Matilda (Live)
---
Just For The Love Of It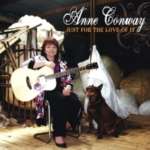 Released

March 2010

Tracks

Just For The Love of It
As If He Knows
It's A Dream Come True
I Just Wanna Dance With You
The Old Rugged Cross
My Island Home
Only Yesterday
Koorie Rose
And The Band Played Waltzing Matilda
Ride On Little Cowboy
Working Man
Brown Eyed Girl
Fields of Athenrye
Living On Jaara Land
---
I Am Australian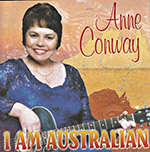 Released

Tracks

Raining on the Rock (John Williamson)
But for the Grace of God (Keith Urban, C. Caffey, C. Wiedlin)
Hobble Chains (Tania & Fiona Kernaghan)
That'll be Me (Gina Hillenberg, Rod McCormack, Jerry Salley)
The Drover's Boy (Ted Egan)
Fly Like a Bird (Boz Scaggs)
I Am Australian (Bruce Woodley, Dobe Newton)
Yorta Yorta Man (Jimmy Little)
Where You Gonna Sleep Tonight (Jack Pledge)
Wild One (Johnny O'Keefe, Johnny Green, Dave Owens)
A lesson in Life (Matthew Williamson, Brendan Walmsley)
Seven Spanish Angels (Eddie Setser, Troy Seals)
Less of Me (G. Campbell)
Bunjil's Jaara People (A. Conway, O. Bice)
---
Find Anne Conway albums & CDs
Disclosure: I get commissions for purchases made through any album links.
Go exploring!
Use the Aboriginal music timeline to view albums over time.