Origin

Ngukurr, southern Arnhemland, Australia

Genre/styles

About Broken

Band members: Danny Thompson, Keith Rogers, Hubert Rami, David Daniels, John Rogers, Nelson Gumbuli and Tony Joyce.

Broken English feature also on the compilations "Croc Rock" and "Meinmuk: Music from the Top End".
Discography
Album formats explained Explain formats
Album formats
10": 10 inch vinyl records were played at 45 or 33 1/3 rounds per minute (rpm). The former could hold 9, the latter 12 minutes of music per side.
7": 7 inch records (often referred to as 45s) were played at 45 rpm or 33 1/3 rpm, with about 4:30 or 6 minutes of music per side.
LP: Long play, is a vinyl record played at ​33 1⁄3 rpm with a 12 or 10-inch diameter.
EP: Extended play, are vinyl records that allowed two or even three songs on each side.
The Studio Sessions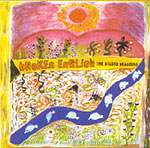 Released

2001

Tracks

Instrumental
Live or Die
Ngukurr Sunrise
Spirit of the Night
From Distant Shores
Greenhouse Effect
Instrumental Reprise
Out of Control
Family
Flour Sugar Tea
Dear Me
Barefoot Girl
Instrumental

Notes

This is the only release ever by Broken English. The group disappeared in the 90s when its members "went on the grog".
---
The Rough With the Smooth
Released

19 February 2007

Tracks

Show a Little Mercy
Straight Lace Girls
Don't Change
Emotional Suicide
You Take Me Away
Comin' On Strong
Casanova
Ball 'n' Chain
Love On the Side
Woman of Stone
Do You Really Want Me Back?
Comin' On Strong (Fallout Mix) [Bonus Track]
Fire Me Up (Long Version) [Bonus Track]
Rough Cut Diamonds (Bonus Track)
Running Out (Bonus Track)
---
Stereotypes (EP)
Released

11 May 2012

Tracks

My Life
Drunk Funk Anthem
Ready to Rumble
Funting Season
Don't Go Getting Caught
Top of the World
---
Find Broken English albums & CDs
Disclosure: I get commissions for purchases made through any album links.
Go exploring!
Use the Aboriginal music timeline to view albums over time.