Origin

Yirrkala and Laynhapuy Homelands, north-east Arnhem Land, Australia

Genre/styles

About

Band members: Rrawun Maymuru (Garrangali Band, frontman), Wulkuwulku Marawili (Garrangali Band, backing vocals, harmonies, keyboard), Patrick 'PJ' White (lead guitar), Gathapura Mununggurr (drums), Arian Pearson (acoustic guitar), Ngalkanbuy Mununggurr (yidaki) Ben Wheatley (bass guitar) and Ses Frank (rhythm guitar).

East Journey sing in Yolgnu language. Website: www.eastjourney.com.au.
Discography
Album formats explained Explain formats
10": 10 inch vinyl records were played at 45 or 33 1/3 rounds per minute (rpm). The former could hold 9, the latter 12 minutes of music per side.
7": 7 inch records (often referred to as 45s) were played at 45 rpm or 33 1/3 rpm, with about 4:30 or 6 minutes of music per side.
LP: Long play, is a vinyl record played at ​33 1⁄3 rpm with a 12 or 10-inch diameter.
EP: Extended play, are vinyl records that allowed two or even three songs on each side.
Guwak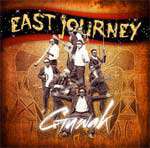 Released

20 April 2012

Tracks

Guwak
Ngarrpiya
Emu
Song of Arnhem Land
Anchor
Warwu
Yalangbarra
Marayarr
Gumik
Djutarra
Gatjala
Gumik (Remix)

Notes

Guwak is East Journey's debut album.
---
Bright Lights Big City (Single)
Released

13 June 2014

Tracks

Bright Lights Big City
---
Song of Arnhem Land - Single
Released

7 November 2014

Tracks

Song of Arnhem Land (Moore/Salas Mix)
---
EMU (Salas/Horvat Mix) - Single
Released

6 February 2015

Tracks

EMU (Salas/Horvat Mix)
---
The Genesis Project
Released

6 February 2016

Tracks

Bright Lights Big City
Mokuy (Spirit) Part 1
Ngarrpiya (Octopus) [Salas/Horvat Mix]
Mokuy (Spirit) Part 2
Song of Arnhem Land (Salas/Moore Mix)
Bonba (Butterfly) Part 1
Emu (Salas/Horvat mix)
Bonba (Butterfly) Part 2
Gumik (Salas/Body Mix)
Bonba (Butterfly) Part 3
---
Find East Journey albums & CDs