Musicians
Kardajala Kirridarra
Origin

Darwin, NT

Genre/styles

About

Kardajala Kirridarra translates to 'Sandhill Women.' Kardajala is the name of the mysterious bush woman from the sand hills behind the community of Malinja, NT.

Kardajala Kirridarra are an all-female band from the communities of Marlinja and Kulumindini (Elliott). They combine contemporary with traditional styles and sing in both Mudburra and English.

Band members: Eleanor Dixon (songwriter and vocalist), Beatrice Lewis (vocalist, multi-instrumentalist and electronic producer), Janey 'Namija' Dixon (translator, story-teller, poet), Kayla Jackson (rapper).

Kardajala Kirridarra feature sounds from the surrounding lands, such as seed pods, thunders storms and clap sticks. They are the first all-female act to perform at the Bush Bands Bash.
Discography
Album formats explained Explain formats
10": 10 inch vinyl records were played at 45 or 33 1/3 rounds per minute (rpm). The former could hold 9, the latter 12 minutes of music per side.
7": 7 inch records (often referred to as 45s) were played at 45 rpm or 33 1/3 rpm, with about 4:30 or 6 minutes of music per side.
LP: Long play, is a vinyl record played at ​33 1⁄3 rpm with a 12 or 10-inch diameter.
EP: Extended play, are vinyl records that allowed two or even three songs on each side.
Ngabaju (Grandmothers Song)
Released

19 May 2017

Tracks

Ngabaju (Grandmothers Song)
---
Ngurra (Rain Song)
Released

27 June 2017

Tracks

Ngurra (Rain Song)
---
Kardajala Kirridarra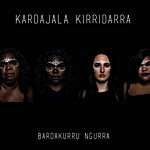 Released

7 July 2017

Tracks

Abala Barlawa (Everything was at Peace)
Two Worlds Collide
Warmala (Young Girls Song)
Ngurra (Rain Song)
Ngabaju (Grandmothers Song)
Ngurrmarla (Love Song)
Kirridarra (Womens Song)
---
Find Kardajala Kirridarra albums & CDs