Origin

Beagle Bay, North West Kimberley, Australia

Genre/styles

About Kerrianne

My songs have been my greatest friend and I will continue to sing my spirit free and heal my heart to love my life.

— Kerrianne Cox
Discography
Album formats explained Explain formats
Album formats
10": 10 inch vinyl records were played at 45 or 33 1/3 rounds per minute (rpm). The former could hold 9, the latter 12 minutes of music per side.
7": 7 inch records (often referred to as 45s) were played at 45 rpm or 33 1/3 rpm, with about 4:30 or 6 minutes of music per side.
LP: Long play, is a vinyl record played at ​33 1⁄3 rpm with a 12 or 10-inch diameter.
EP: Extended play, are vinyl records that allowed two or even three songs on each side.
Just Wanna Move
Released

1999

Tracks

Stronger, Journey's Never Longer
Just Wanna Move
Try, That's All I'll Do
Woman Got No History
Stolen Children
Beagle Bay Dreaming
Chance Is a Chance
Special Affection
Woman
Pick Myself Up
U Touch
---
Upstart Aussies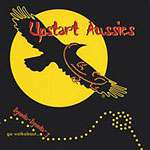 Released

2000

Tracks

Beagle Bay Dreaming

Notes

An album featuring Australian Indigenous and non-Indigenous artists. Kerrianne contributed song 9: Beagle Bay Dreaming.
---
Opening
Released

2001

Tracks

Beagle Bay Dreaming
I Hide Too
Shades of Brindle
Wunjgnunj
She's Got a Story Too
Kututu
Life's Pain and Joy
U Touch
Opening
I Wanna
Heaven With you
Lulu's (Grandfather's) Yarn
Beagle Bay Dreaming (children)
---
Return to Country
Released

28 July 2006

Tracks

Whad Wrong With You?
Return to Country
Gotta Grow
Ngarlan Is Our Home
Barefoot People
Bush Tucker
Talking Rain
Burr
Haven't Lost Faith
Dreamtime With You
---
Find Kerrianne Cox albums & CDs
Disclosure: I get commissions for purchases made through any album links.
Go exploring!
Use the Aboriginal music timeline to view albums over time.