Origin

Yamijti people (Widi tribe), Ogunbil, West Australia

Genre/styles

About
Discography
Album formats explained Explain formats
10": 10 inch vinyl records were played at 45 or 33 1/3 rounds per minute (rpm). The former could hold 9, the latter 12 minutes of music per side.
7": 7 inch records (often referred to as 45s) were played at 45 rpm or 33 1/3 rpm, with about 4:30 or 6 minutes of music per side.
LP: Long play, is a vinyl record played at ​33 1⁄3 rpm with a 12 or 10-inch diameter.
EP: Extended play, are vinyl records that allowed two or even three songs on each side.
Didgeridoo Concerto
Released

1984

Tracks

Didgeridoo Concerto

Notes

A one track album, with a 50+ min piece.
---
Mark Atkins Plays Didgeridoo
Released

1995

Tracks

Bullima
Mung-goon-garlie
In the Night
Tuckonies (Tree Spirit)
Sugar Bag (Bees)
Dumble-Murray
Spontaneous Combustion
The Devil
Bungarrow

Notes

Re-released in 1999 as Didgeridoo Dreamtime.
---
City Circles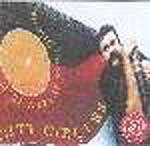 Released

1996

Tracks

Didgeridoo Concerto
The Emu & the Dog
Pavement Shuffle
City Circles
The Irish in Me
Dreamtime in the Meantime
Birds Eye View
Dance This Time Round
Hoot'n and the Technique
Reelin' Didge
Laughin' Didge

Notes

Special European tour release.
---
The Sound of Gondwana - 176,000 Years In The Making
Released

February 1997

Tracks

The Call
Crossings
Forest Light
Dance This Time Around
The Emu And The Dog
Dreamtime In The Meantime
Mouthmusic
Cave Drawings
Mungari
Hand Stencils
Roo
My People
---
Creeper Vines and Time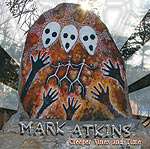 Released

2005

Tracks

Creeper Vines & Time
Blow Fly
Mimis
Possom
Road Train
Iron Horse
Laughin Up
Full Moon
Spider
Swamp
Bullet Train
Rain Comes
Trax
Kimberly Sky feat. Mark Willers
---
Dreamtime
Released

1 July 2011

Tracks

Bullima
Mung-Goon-Garlie
In the Night
Tuckonies (Tree Spirit)
Sugar Bag (Bees)
Dumble-Murray
Spontaneous Combustion
The Devil
Bungarrow
Plateau
---
Find Mark Atkins albums & CDs