Musicians
Richard Frankland and the Charcoal Club
Origin

South-West Victoria, Australia

Genre/styles

About Richard

Band members: Richard Frankland, Andy Baylor, Monica Weightman, Aurora Kurth, Rosanne Hunt, Andrew O'Grady and Harry Lye.

Richard Frankland is an acclaimed singer and songwriter who has performed with Archie Roach, Tiddas, Mark Seymour and many others.


Richard Frankland (squatting) and the Charcoal Club. Image courtesy Golden Seahorse Production.
Discography
Album formats explained Explain formats
Album formats
10": 10 inch vinyl records were played at 45 or 33 1/3 rounds per minute (rpm). The former could hold 9, the latter 12 minutes of music per side.
7": 7 inch records (often referred to as 45s) were played at 45 rpm or 33 1/3 rpm, with about 4:30 or 6 minutes of music per side.
LP: Long play, is a vinyl record played at ​33 1⁄3 rpm with a 12 or 10-inch diameter.
EP: Extended play, are vinyl records that allowed two or even three songs on each side.
Meeting One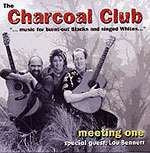 Released

2002

Tracks

Who Will Sing My Songs
Slow Down
Condah Mission
Maybe One Day
Gypsy Jane
Asunda
Scars
So This Is Who I Am
We Are The Land
Soft Memories
Listen
Look For Me
---
Cry Freedom — Meeting Two
Released

2005

Tracks

Cry Freedom
Jordan Rain
Lawbreaker
Asunder
Last Tear
Walked Into My Memories
Coming Home
Don't Go Down That Dreaming
Sweet Mother
Little Voice
I Gove To You
Who Made Me Who I Am?
---
Find Richard Frankland and the Charcoal Club albums & CDs
Disclosure: I get commissions for purchases made through any album links.
Go exploring!
Use the Aboriginal music timeline to view albums over time.