Movies
Between The Lines: The Initiation Of Adam Hill
Synopsis
Between the Lines follows Sydney-based Worimi man Adam Hill, an activist painter and musician defined by a mixed Indigenous and white heritage as he goes on an artistic and personal journey of identity through his artwork.
Confronting his frustrations and his commitment towards his own Aboriginality, Adam struggles with the views held not only by the society around him but the people who are closest to him. Even his own Aboriginal father, Bob, has taken a very different view on identity, which sees him integrate alongside white Australian society, rather than questioning it.
Regardless of their opposite opinions they are both drown together by the memory of Clorine Mordem, Adam's paternal grandmother. It is through this union that we watch as Adam tries to seduce his father to go on a trip to the north of Sydney, to not only reconnect with their Aboriginal family which neither has met but to also visit the spiritual home of Bob's mother, Clorine.
"By exploring Adam's personal history, [Between the Lines] highlights the controversy around Australian identity and suggests it is an open concept," says film-maker Esther Lozano.
"It is not defined by the place where one comes from but by what one identifies most strongly with. Adam's contradictions and frustrations are not unique to him, or to Aboriginal Australians, or to Australians. They are universal."
Bob his father, was brought up with his white cousins after his mother died, never having any contact with his Aboriginal family. The stark contrast between Adam and his father's social identity is a moving insight into the individual's search for meaning in a world dictated by imagery and stereotypes. It is a documentary that hits a raw nerve for us all.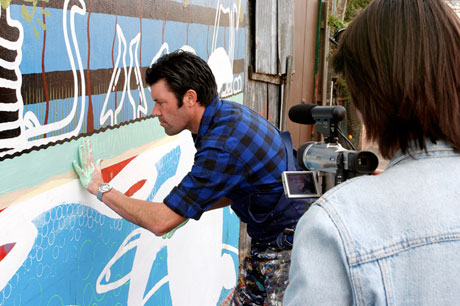 Thanks to Monica Garriga for letting me know about her movie.
Details
Cast

Adam Hill - himself
Bob Hill - himself

Release dates

6 August 2007 - Australia

Rating

Distributor

Monica Garriga | mobile +61-438 187 154 | [email protected]

Soundtrack

Oscar Kaiser

Notes

Monica Garriga is the foreign correspondent for the Spanish News Agency EFE in Australia and has a post-graduate degree in Australian Studies from RMIT.

Esther Lozano, prior to starting this documentary worked for the Spanish TV network Localia where she was a director of current affairs.
Watch now or find a DVD/BlueRay copy
Browse a list of Aboriginal film suppliers and distributors