Synopsis
With Days Like These Martin Leroy puts the viewer into the shoes of Dan, a young Aboriginal man trying to find work. As we follow him through the day we get a feeling of what it means to be black and to cope with disappointments and social stereotyping.
Filmed in Sydney and Redfern, Days Like These is a compelling snapshot of urban Aboriginal life and its daily challenges.
Director Martin Leroy Adams says about his film: "This film is to highlight the struggles Aboriginal people face due to institutional racism and how that can result in a lack of opportunities. Many Australians don't believe they are racist, but many still hold true to their racial stereotypes of other cultures.
"Unfortunately for Aboriginal people, many perceive us in a bad light - lazy, criminalist, drunk or just plain untrustworthy. How's a brother gonna get ahead when everyone is putting him down? How are you supposed to get out of a gutter when everyone else thinks you belong down there?
"Despite these continued struggles, we as a people have survived and will continue to push forward for our place in the world. Dan represents that strength and how we are still here today despite the bullets, the round-ups and the diseases. Our ancestors were survivors - undefeatable strong black men and women. Today we still put up with the shit and continue the struggle. Dan is a champion, a fighter, a strong black man." [1]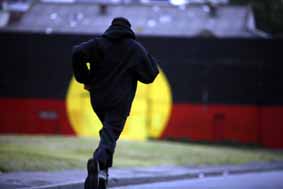 Details
Cast

Gee Hoy - Dan Jordan
Lillian Crombie - Mum
Patrick Phillips - Hotel manager
Tony Krawitz - Employer
Guy Leslie - Policeman
Charles Cheney - Matthew
Dannielle Jackson - Secretary

Release dates

May 5, 2007 - Australia (World premiere on the Message Sticks Indigenous Film Festival)

Video/DVD release date

2007, Bit of Black Business

Awards

Best Film, Best Direction, Best Actor, Best Editing: 2007 Gulalbi Short Film Fest

Rating

PG - Parental guidance

Distributor

Flickerfest

Notes

The film features a short scene of The Block in Redfern.
Watch now or find a DVD/BlueRay copy
Browse a list of Aboriginal film suppliers and distributors