Movies
Fist of Fury Noongar Daa
Synopsis
Bruce's Lee's kung fu classic from 1972 becomes the first feature film ever to be re-voiced in an Australian Aboriginal language.
When Lee's incredible power propelled him from Hong Kong cinema to global stardom in the early 1970s, Noongar people in Australia, just like audiences worldwide, took note, practiced moves and found inspiration in Lee's examples of discipline, loyalty and the eternal fight against injustice.
Fist of Fury, the film that launched Lee internationally, is the epitome of all that. Set in Shanghai in 1910, it stars Lee as Chen Zhen, a loyal student out for vengeance against racist bullies.
Fist of Fury Noongar Daa is a redubbed version in the Noongar language, spoken by only 2% of the entire Noongar population. [1]
Trailer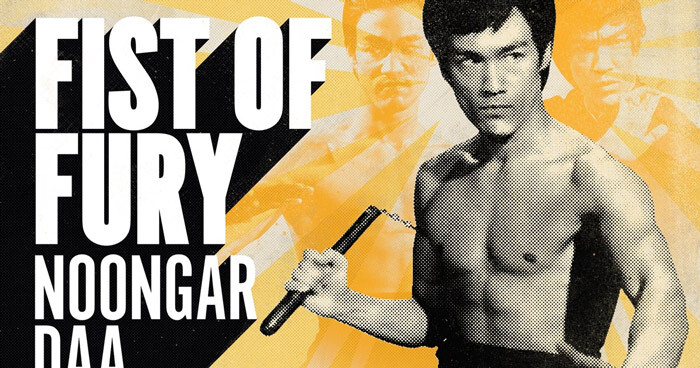 Details
Cast

Character voices:
Chen Zhen - Kyle J Morrison
Fan Chun-hsia - Clint Bracknell
Wu En - Kylie Bracknell
Jing Wu Student - Shontane Farmer
Tien - Michael Fuller
Petrov - Peter Humphries
Tung - Denzel Humphries
Wake Eulogist - Barry McGuire
Yuan Le-erh - Ebony McGuire
Yen - Della Rae Morrison
Inspector Lo - Mark Nannup
Yoshida - Trevor Ryan
Suzuki Hiroshi - Maitland Schnaars
Hsu - Ian Wilkes
Fan Chia-chi - Rubeun Yorkshire
Feng Kwai-sher - Willis Yu
Japanese Fighter - Isaiah Walley-Stack
Japanese Fighter - Tjiirdm McGuire
Japanese Consul - Phil Walley Stack
Bushido School Administrator - Richard Walley OAM
Narrator - Roma Winmar

Release dates

20 February 2021 - World premiere at the Perth Festival, Australia

Rating

M - Mature

Notes

Noongar with English subtitles. 'Daa' means dub in Noongar.

Fist of Fury Noongar Daa was inspired by Navajo Star Wars, a 2013 Navajo-dub of the original Star Wars film.

The film's enduring themes of honour, resisting colonisation, revering one's teachers, and fighting injustice resonates with most Aboriginal people.

The Noongar dialogue is based on the film's original Cantonese dialogue.
Watch now or find a DVD/BlueRay copy
Browse a list of Aboriginal film suppliers and distributors