Synopsis
In 1968, Aboriginal boxer Lionel Rose became the the first Indigenous world bantamweight boxing champion when after 15 rounds he defeated Fighting Harada in Tokyo. He returned home to a hero's welcome by a crowd of 250,000.
Lionel is a very lucid documentary which tells Lionel Rose's story from his childhood in rural Victoria to the present day. It's a story that's both triumphant and rather bitter-sweet, because after his success and fame in the 1960s Rose found it difficult to adjust to a more normal life.
Four years after winning his crown, Rose lost his title to Ruben Olivares. He became tangled with the law and spent all his winnings on family, gambling and drugs. His marriage to Jenny, the daughter of his first trainer, Frank Oakes, broke up for a while.
Combining vibrant long-lost archival material, modern day footage and candid interviews, Lionel is a biopic about an often-forgotten Australian champion who took on the world against all odds and won.

Australia's own buried idol... he was a world champion, a former Australian of the Year, a musician with Number 1 hits and the greatest Aboriginal boxer of all time.

— Eddie Martin, director
His success came just months after the passing of the 1967 Australian referendum, which saw Aboriginal people counted in the census for the first time and allowed the government to make laws for them. In this climate, Rose was more than a black sporting hero - he was also a symbolic figure in the interracial politics of the time.
If he'd fought the year before he wouldn't even have counted as an Australian citizen.

— Jenny Rose, Lionel's wife
I didn't realise how massive he was back in 1968, 69, 70.

— Eddie Martin, director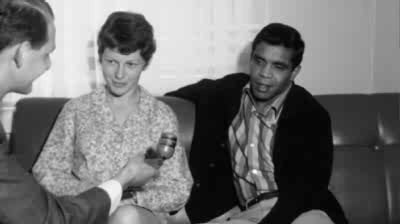 Details
Cast

Lionel Rose
Jenny Rose (his wife)
Jack Rennie
Mark Rennie
John Johnson
Gary Foley

Release dates

World premiere 2 August 2008 at the Melbourne International Film Festival
4 October 2008 - Melbourne
16 October 2008 - Sydney (Staggered Sydney/Melbourne only release)

Video/DVD release date

20 November 2008, 27 August 2015

Rating

M - Mature

Distributor

Siren / Gryphon Entertainment (DVD), Ronin Films (DVD)

Soundtrack

Cezary Skubiszewski

Notes

Eddie Martin was initially commissioned by SBS to deliver a 52 minute documentary, but became interested in also doing a longer version after finding it impossible to squeeze all the important events of Lionel Rose's life into that time.

Lionel demonstrates as well how Lionel's astonishing celebrity and marriage to a white woman represented a breakthrough in the public's acceptance of Indigenous people.

The 52 minute version was broadcasted on television, the longer version is the movie and DVD version.

The Limited Collector's Edition DVD features four historical Lionel Rose matches presented in full:

- Lionel Rose Vs Fighting Harada - Tokyo: Feb 26 1968 (presented in colour)

- Lionel Rose Vs Takao Sakurai - Tokyo: Jul 2nd 1968

- Lionel Rose Vs Chucho Castillo - Los Angeles: Dec 6th, 1968

- Lionel Rose Vs Vicente Garcia - Melbourne: Nov 1st, 1969

Lionel Rose was born on 21 June 1948. He became the first Aboriginal Australian of the Year.

Lionel's recording career delivered two hit singles, one of which was written by Johnny Young.
Watch now or find a DVD/BlueRay copy
Disclosure: I might get commissions for purchases made through some of the links.
Browse a list of Aboriginal film suppliers and distributors