Synopsis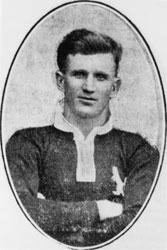 Remember the song "Ten Little Nigger Boys" or "Nigger Boy Licorice"? When you were young you probably didn't think twice about it, but as you grew up you realised that the word 'nigger' is defamatory and racist.
This is what Stephen Hagan, an Aboriginal leader, felt as well when he moved to Toowoomba (Queensland) in 1990 and discovered the local rugby league grandstand's name was "ES 'Nigger' Brown Stand".
ES stands for Edward Stanley Brown, a white man who's nickname was 'Nigger', because at that time a shoe polish existed called 'Nigger Brown' (now being sold as 'Dark Tan'). Edward was a former Kangaroo rugby league player of the 1920s who became an international and local Toowoomba legend. The stand was built in the 1950s, the sign added in 1960.
Nigger Lovers documents Stephen Hagan's fight for the sign to be taken down. He discovered the sign in the late 1990s when he took his family to a rugby league game. Being the Aboriginal activist he is he decided to take action.
Stephen Hagan's fight makes an interesting story. In 1999 the Toowoomba Sportsground Trust politely declined his request to take the sign down. In 2002 the High Court ruled that the sign could stay. In 2003 the United Nations found that the offensive name should be changed, however, Australian authorities simply ignored the ruling.
Nigger Lovers is not only a story of enormous strength, of determination and persistence, it's also a story of a man being challenged to his limits, receiving death threats and bringing his family close to bankruptcy.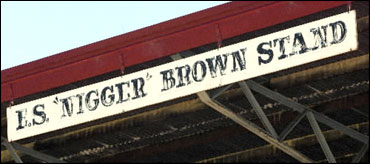 Details
Cast

Stephen Hagan

Release dates

May 6, 2007 - Australia (World premiere on the Message Sticks Indigenous Film Festival)

Awards

Best Short Form Documentary - 2007 Atom Awards Best International Short Documentary - 2008 Maori International Film Festival

Rating

PG - Parental guidance

Soundtrack

Russell Tainton

Notes

When people went on 'nigger hunts' they went to massacre them.

Little Nigger Creek (between Townsville and Tully in Queensland) was successfully renamed in 2000 to Little Gin Creek.

Stephen Hagan's house need to be controlled by police due to threats.

"The Brown family is happy to take [the sign] down." - personal comment of the son of Edward Stanley Brown to Stephen Hagan.

Stephen Hagan wrote a book called 'The N Word' about his fight.

Mr Hagan also spearheaded an unsuccessful legal challenge against an Australian brand of cheese called Coon. The cheese was named after Edward William Coon who developed it in the 1920s. The name has been retained since despite its racist connotations.

Edward Stanley 'Nigger' Brown died in 1972 at the age of 74.

In 2007 the Toowoomba Sportsground Trust decided to tear down the stand due to safety concerns. However, it also decided to erect a statue to 'Nigger Brown' at the site.

Rhonda Hagan is Stephen Hagan's wife.
Watch now or find a DVD/BlueRay copy
Browse a list of Aboriginal film suppliers and distributors