Synopsis
Nin's Brother is the story of a family's love as they journey from New South Wales to South Australia to unravel the fate of their brother and great uncle, Milton Wedge, and to bring him home to a proper resting place with the graves of his family.
Milton was shot in a remote South Australian mining town in 1960, aged 27, when he had an affair with the police officer's daughter. He was buried in Port Augusta in an unmarked grave.
"The story of his death has been passed through the generations of my family. All we knew was quite vague - that he fell in love with a white woman, was shot by her father and buried in a mine," Munro says.
The reality is a lot more complex. As they discover Milton's death certificate, so too is a tale of illicit love and a complex case of wrongly-accused murder suicide, that, owing to Milton's race and legal status, never even justified a police report.
Nin's Brother traces how Jenny Munro, Milton's sister and her grand-daughter lift the mystery that wraps what really happened when Milton died. They uncover his alias, find his grave and have him exhumed and his body forensically analysed to reveal the truth. In an unlikely place they find a vital piece of evidence.
Milton finds his final rest in a reburial at Cowra, NSW.

Death doesn't stop life – you still have obligations.

— Jenny Munro
If you are born an Aboriginal person and grow up in this country you grow up with a sense of injustice.

— Jenny Munro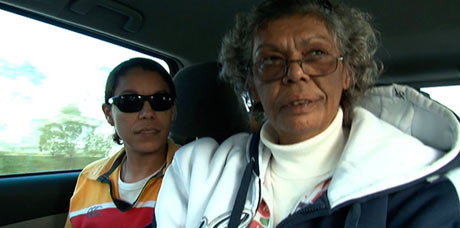 Details
Cast

Mary Munro - daughter
Jenny Munro - Mary's mother
Milton - Mary's great-uncle
Uncle Arch - Milton's brother
Agnes 'Nin' Coe - Mary's grandmother

Release dates

2010 - Australia (World Premiere during the 11th Message Sticks Indigenous Film Festival, Sydney

Rating

PG - Parental guidance

Notes

Nin's Brother was shot in the Blue Mountains, NSW, and took about eight years to make.
Watch now or find a DVD/BlueRay copy
Browse a list of Aboriginal film suppliers and distributors