Synopsis
Sacred Ground tells the story how Quenten Agius and his nephew Chris discover human skeletal remains in the middle of a multi-million dollar housing development - is it a murder or is it an ancestor?
Sacred Ground captures the inside story of Quenten Agius, a direct descendent of the traditional owners of Yorke Peninsula in South Australia, and his family fighting to save what is left of their ancient heritage and culture.
This film is a microcosm of what is happening to Aboriginal people all over Australia. Thousands of years of ancient heritage, culture and traditions are being swept away each year by ignorant or uninformed development processes.
Quenten and his family are witnessing the desecration and destruction of the last remaining heritage and cultural sites on their traditional lands, sites that are vital to their Dreaming stories and cultural beliefs, stories and beliefs that have been handed down from generation to generation for thousands of years.
Sacred Ground is a contemporary story – challenging, enriching and emotional – that takes us into an Aboriginal world that is rarely seen or heard.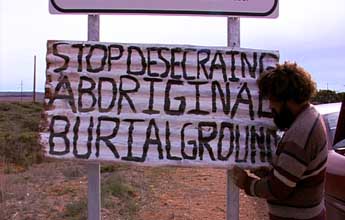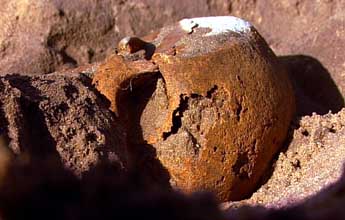 Details
Cast

Jeffery Newchurch
Elaine Newchurch - Adjahdura elder
Irene Agius - Adjahdura elder
Quenten Agius
Calvert Agius
Keryn Walshe

Release dates

10 December 2008 (Australian Big Screen Premiere, Tandanya Aboriginal Cultural Centre, SA)

Video/DVD release date

20 October 2007

Awards

Winner Grand Prize (Special Jury Selection Award) - Global Green Indigenous Film Festival (Santa Fe, New Mexico, USA) - April 2008 Winner Special Jury Prize - Pacific International Doco Film Festival (FIFO Tahiti) - Feb 2008 Winner Best Documentary - 2007 National Awards (AVPA Australian Video Producers Assoc) Winner Best Broadcast TV Pgm - 2007 National Awards (AVPA Aust Video Producers Assoc)

Rating

G - general

Distributor

Ronin Films

Soundtrack

Ashley Klose

Notes

The movie's website is www.sacredground.com.au.
Watch now or find a DVD/BlueRay copy
Browse a list of Aboriginal film suppliers and distributors
Other films by Kim Mavromatis