Synopsis
When Charlie trades Eddie's favourite jacket, he unwittingly loses a sacred stone, entrusted to Eddie by his uncle, which he promised to one day return to its home in Kalgoorlie.
As far as Eddie is concerned, this is the final straw and he sets off the recover the stone and reconnect with his black fella roots. But Charlie, escaping the wrath of his vengeful girlfriend, forces himself along for the ride, and Eddie's spiritual journey takes a very sharp turn off-track.
On a lonely highway, the boys pick up what Charlie mistakes for a 'hot chick' only to find they are landed with Vinnie, a self obsessed Italian stallion, who claims to have been marooned in the desert by his heavy metal band.
Soon after they are joined by Eddie and Charlie's drag queen cousin Regina, whose dreams of making it big on 'that Koori Idol show' are being thwarted by her manager-cum boyfriend.
What ensues is a riotous trip through outback Australia as the foursome encounter a host of eccentric character, attend a literally explosive wedding ceremony, conspire to hold up an outback museum and are pursued by a vicious demon dog.
Stone Bros. combines a touching story about the unpredictabilities of friendship and family with a road trip you'll never forget.

With this film I'm hoping we give licence to all Australians to laugh with us, not at us behind closed doors.

— Richard Frankland, director of Stone Bros.
Stone Bros is a landmark film, which will go a long way towards changing people's views about Aboriginal Australia.

— Allanah Zitserman, Director Australian Film Syndicate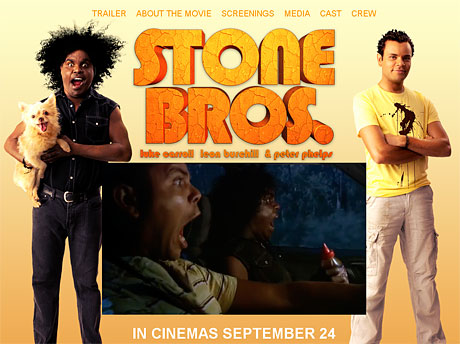 Details
Cast

Luke Carroll - Eddie
Leon Burchill - Charlie
Valentino Del Toro - Vinnie (Italian muso)
David Page - Regina (Charlie's drag queen cousin)
Peter Phelps - policeman

Release dates

24 September 2009 - Australia
28 May 2009 - Premiere at the Dungog Film Festival, in the NSW upper Hunter

Rating

MA 15+ - Mature accompanied

Notes

Stone Bros. is Richard Franklin's first feature film and possibly Australia's first feature Aboriginal comedy. He wrote the film in 1994, at a time when he says there were only sad stories about Aboriginal Australia ['Film a rib-tickler', Koori Mail 459 p.45].

Other movies by Richard Frankland are Who Killed Malcolm Smith.

Richard Frankland is a Gunditjamara man from Portland, Victoria, and a former field officer with the Royal Commission into Aboriginal Deaths in Custody

Stone Bros. was shot in Perth, Kalgoorlie and outback Western Australia.
Watch now or find a DVD/BlueRay copy
Disclosure: I might get commissions for purchases made through some of the links.
Browse a list of Aboriginal film suppliers and distributors
Other films by Richard Frankland