Synopsis
The Last Wave tells the story of young tax lawyer, David Burton, who takes on the defence of five city Aboriginal people who seem to have killed one of their own under tribal law - but as the government doesn't acknowledge that there are tribes in the city, defending the men appears to be impossible.
David's efforts are frustrated by the defendants, who refuse to cooperate with him. But he experiences recurring dream images of defendant, Chris Lee, and a mysterious older native named Charlie turns out to be a shaman who identifies David as being from an ancient tribe from the West.
David begins an odyssey involving strange natural occurrences – all centring on water – in down-town Sydney. His obsessive research eventually leads him to surmise that some kind of cyclical cleansing of the earth is in the offing, an apocalypse predicted – or created – by the magic of Aboriginal people, a massive, apocalyptic tidal wave.
David Gulpilil dominates the film with his performance as Chris Lee.

Chris: We're nothing but the law learned from our forefathers. David: But surely men are more important than laws? Chris: No. The law is more important than just man.

— dialogue in The Last Wave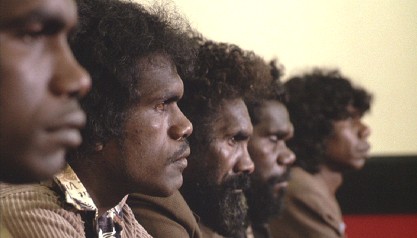 Thanks to Jacinto Aganza for pointing me to this movie.
Details
Cast

Richard Chamberlain - David Burton
Olivia Hamnett - Annie Burton
David Gulpilil - Chris Lee
Frederick Parslow - Rev. Burton
Nadjiwarra Amagula - Charlie
Walter Amagula - Gerry Lee
Roy Bara - Larry
Peter Carroll - Michael Zeadler
Athol Compton - Billy Corman
Hedley Cullen - Judge
Michael Duffield - Andrew Potter
Wallas Eaton - Morgue Doctor
Jo England - Babysitter
Vivean Gray - Dr. Whitburn
Cedric Lalara - Lindsey
Morris Lalara - Jacko
Tony Llewellyn-Jones
Malcolm Robertson
Greg Rowe - Carl
John Meagher - Morgue Clerk
John Frawley - Policeman
Jennifer De Greenlaw - Zeadler's Secretary
Richard Henderson - Prosecutor
Penny Leach - Schoolteacher
Merv Lillie - Publican
Guido Rametta - Guido
Malcolm Robertson - Don Fishburn
Katrina Sedgwick - Sophie Burton
Ingrid Weir - Grace Burton

Release dates

15 December 1977 - Australia

Video/DVD release date

27 November 2001

Awards

1978 AFI Award: Best Achievement in Cinematography (Russell Boyd) and Best Achievement in Sound (Don Connolly, Greg Bell, Phil Judd) 1978 Avoriaz Fantastic Film Festival: Special Jury Award 1982 Sitges - Catalonian International Film Festival: Clavell de Plata - Best Actor (Richard Chamberlain)

Rating

PG - Parental guidance

Soundtrack

Charles Wain

Notes

In the USA The Last Wave is known as Black Rain.
Watch now or find a DVD/BlueRay copy
Disclosure: I might get commissions for purchases made through some of the links.
Browse a list of Aboriginal film suppliers and distributors