Synopsis
Jason's mother sends the 13-year-old on a vacation to his grandfather, the only role model for the boy she can think of.
Jason is very reluctant to part from his iPod and rap music, but eventually agrees to go on a fishing trip which will change his life. The two spot a turtle and Jason starts to discover the traditional ways of life his grandfather knows so much about.
Director Kelli Cross says about his film: "The inspiration for this film came from those young kids you see on the news that are always up to no good.
"Recently, a carload of young fullas rolled their car during a chase just behind my house, and these kids just scattered. Eventually the police actually caught two of them right across the road. We were standing at the letterbox looking at these kids who were on their knees, heads down, skinny little wrists handcuffed behind their backs. They couldn't have been any older than 13.
"All I could think of was that could be Jason! The character of Jason could be a year or two away from being on the news, walking into a courthouse with his face all blurry. I want the audience to think a bit differently, next time, about the little punks they see walking around town or on the train." [1]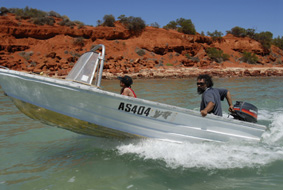 Details
Cast

Gregory Cross - Jason (boy)
Kelton Pell - Pop (grandfather)

Release dates

May 5, 2007 - Australia (World premiere on the Message Sticks Indigenous Film Festival)

Video/DVD release date

2007, Bit of Black Business

Rating

PG - Parental guidance

Distributor

Flickerfest

Notes

Filmed at Shark Bay, Western Australia.

Kelli Cross "wanted to have a nice story" because there are so many sad stories around already.

Kelli Cross originates from Perth, Western Australia. The Turtle is his first film.
Watch now or find a DVD/BlueRay copy
Browse a list of Aboriginal film suppliers and distributors