Synopsis
Think About It is a documentary that explores peace activism and the roles that individuals can play to initiate social change
Interviewees include high profile activists, politicians, ex-public servants and cultural groups:
an Indigenous actor (David Gulpilil),
a UK professor expert on democracy (John Keane),
an Australian intelligence officer (Andrew Wilkie),
senators (Bob Brown, Lynn Allison, Kerry Nettle),
a former Australian prime minister (Malcolm Fraser),
a minister for climate change (Peter Garrett),
an international peace spokesperson (Cindy Sheehan),
an Indigenous spokesperson (Allan Madden),
a Labour Council secretary (John Robertson),
the father of an Indigenous youth who died while trying to escape police (Terry Hicks)
and others.
Think About It is supposed to give viewers facts and many viewpoints about our current life which appears to be environmentally unfriendly and lacking initiative to provide alternatives to control imposed by big companies and governments. Think About It promises to show simple ways to 'take back control and re-shape our world into the place we want it to be'.
According to Richard Friar the title derives from a phrase often used by actor David Gulpilil.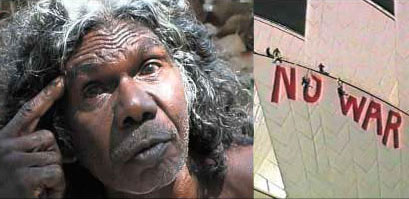 Details
Cast

David Gulpilil
John Keane
Andrew Wilkie
Bob Brown
Lynn Allison
Kerry Nettle
Malcolm Fraser
Peter Garrett
Cindy Sheehan
Allan Madden
John Robertson
Terry Hicks

Release dates

February 24th, 2007 - Australia (Byron Bay)

Rating

G - general
Watch now or find a DVD/BlueRay copy
Browse a list of Aboriginal film suppliers and distributors