Movies
Too Little Justice
Synopsis
Too Little Justice tells of "everyday" racism escalating into violence as an Indigenous school boy is forced to fight for dignity.
Too Little Justice was written as a response to the events and the media coverage of Sydney's "Redfern Riots" in early 2004, following the death of Aboriginal teenager TJ Hickey.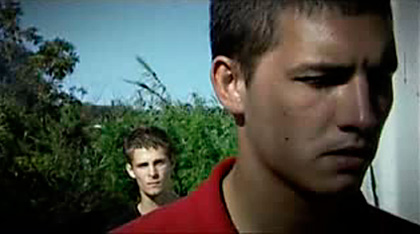 Details
Cast

George Barker - Warren
Shannon Cole - John

Release dates

2004 - Australia

Rating

PG - Parental guidance

Soundtrack

Basil Hogios

Notes

Dean Francis films include The Beat (2007) 9 min , Vermin (2006) 22 min, Deadline (2006) 5 min, Damage (2006) 48 min (TV Pilot), Afterlife (2005) 9 min, Go Fight Yourself (2005) 45 sec, Boy's Grammar (2005) 8 min, Transgression (2004) 7 min, Too Little Justice (2004) 5 min, Crazy Richard (2002) 64 min, I Can't Even Think Straight! (2000) 58 min (TV Pilot) , Dupion (2000) 11 min, Dysposia (1999) 21 min, Escape from Hell (1998) 9 min, Cult of Beauty (1998) 11 min.
Watch now
Note: Film might not be available at all suppliers.
Find "Too Little Justice" on DVD or BluRay
Disclosure: I get commissions for purchases made through some of the below links.
Browse a list of Aboriginal film suppliers and distributors