Arts
Copyright of Aboriginal art
Copyright of Aboriginal art is immediate, but many disregard it and profit from copyrighted works. Copyrighting traditional works is particularly challenging.
Close this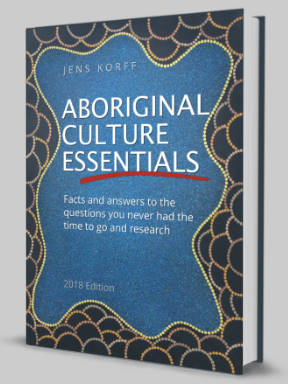 Wishing you knew more about Aboriginal culture?
Search no more.
Get key foundational knowledge about Aboriginal culture in a fun and engaging way.
This is no ordinary resource: It includes a fictional story, quizzes, crosswords and even a treasure hunt.
Stop feeling bad about not knowing. Make it fun to know better.
All Aboriginal art is copyrighted
The moment an Aboriginal artist or author creates a work it is protected under the Australian Copyright Act 1968. [1] Any subsequent sale of the work does not automatically endorse the copyright which remains with the author unless they decide otherwise.
Copyright generally protects an artwork from being copied during the lifetime of an artist and for 70 years after death.
But this has been "casually disregarded" [2] for decades as businesses and non-Aboriginal people assumed that "it was only Aboriginal art" and they didn't think they had to ask anybody. [3]
Even products that don't copy Aboriginal art but are "inspired" by it can get you into trouble, as ceramics brand Villeroy & Boch found out. The co-chair of the Indigenous Art Code deemed the design of the company's Rock Desert tableware line a cultural "misappropriation", while the company claimed the "creative interpretation ... intended no disrespect". [4]
British company, Derek Productions, used an unauthorised copy of a painting by Aboriginal artist Warlimpirrnga Tjapaltjarri in the first series of After Life which aired on Netflix in 2019. The painting featured prominently on the main character's living room wall. The company had to pay compensation and retrospective license fees for its use of the copy. [5]
Agencies help enforce copyright fees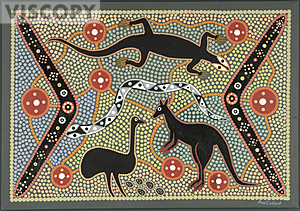 Aboriginal artists can decide to have a copyright collecting agency represent them. This means that the agency holds images of the artist's work in a database. Clients of this agency can then license the use of art by paying a licensing fee to the agency. The artist receives this fee less any administration costs of the agency. This way the Aboriginal artist does not need to negotiate or liaise with clients directly, making them less vulnerable to exploitation or breach of copyright.
The copyright collecting agency for Australia is called Copyright Agency. It's a not-for-profit organisation with more than 30,000 members: authors, journalists, publishers, surveyors, visual artists, photographers, cartoonists and illustrators. The Agency collects and pays royalties to creators and advocates for their rights. It facilitates consumers to use, share and reproduce content so they don't have to locate copyright owners or negotiate fees.
You should never give away your copyright… Because when I look at my art, I look at my family. So don't deal with anyone who doesn't respect you, who doesn't take on board your cultural needs, your family needs.

— Bronwyn Bancroft, Aboriginal artist [3]
Copyrights fail traditional art

Copyright for Aboriginal works is limited and does not protect oral culture [10]. Copyright law only extends 70 years after an author's death and a patent only protects inventions for 20 years, which makes it very hard to sue someone who has misused traditional knowledge.
And Aboriginal knowledge doesn't fit into either category. Authors of traditional stories might not be known since some stories are very old and don't have an owner, but only a keeper. Who should receive the royalties?
Adding complexity to the topic is the Western law which assigns rights to individuals, whilst Aboriginal law recognises custodianship mainly by the community, governed by Elders who can make decisions to protect and use these resources. [11]
The copyright creation and moral rights of a documentary film, for example, would belong to the director and the producer, but not to an Aboriginal family who might have contributed significantly to the film's storyline.
The oral tradition or performance of a dance is not protected either, leaving it vulnerable to choreographers using them to create a new dance and owning the rights of the new work.
"A traditional dance is in that fuzzy ground where it's too old for copyright protection," explains Aboriginal lawyer Terri Janke [10]. If an Aboriginal dance group is filmed, "there is a separate copyright in the film that belongs to the film-maker, often not the Indigenous dance group," she says.
Care should be taken not to copy designs found in Aboriginal art work of any kind. When a group of didgeridoo players in the US published images of a didgeridoo-playing man along with a Dreaming story on their website they offended the traditional owners.
The man's body paintings showed traditional designs which were "effectively private 'signatures'" relating to specific country. Such designs belong to individual clans, are part of their identities and cannot be borrowed or imitated. New designs should also not be made up [12].
Sharing a traditional story also offended the elders. Such stories belong to clans and are theirs to tell.
However, copyright laws did not cover the case. An Aboriginal lawyer specialising in intellectual property commented that copyright laws would only have been breached if the group had performed – without permission and attribution – songs that had been formally registered for copyright [12]. Singing ancient traditional songs would not breach copyright either as they are older than 70 years, but it would disrespect Aboriginal protocol.
The same applies for using Australian plants with medicinal properties. No-one stops overseas companies from exploiting traditional knowledge they gained in Australia, taking it overseas, creating products from it and selling them for profit.
That's part of the problem, people can do that [disrespecting Aboriginal protocol] and not infringe copyright laws, but you can see how offensive it is to Indigenous people.

— Terri Janke, Aboriginal lawyer [12]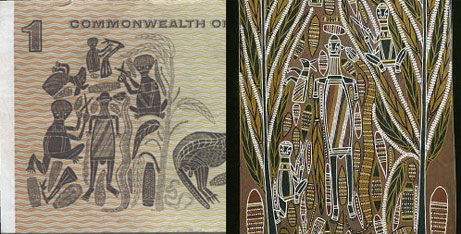 Video: The story of the painting in the $1 dollar note
The video tells David Malangi's side of the story and explains details of the artwork that depicts the "mortuary feast" of one of the artist's creation ancestors, Gunmirringu, the great ancestral hunter. The Manarrngu people attribute this story as the origin of their mortuary rites.