Arts
Bangarra Dance Theatre
Bangarra Dance Theatre is a successful Aboriginal performing arts company fusing Aboriginal culture with contemporary dance.Their performances have excited audiences worldwide.
Close this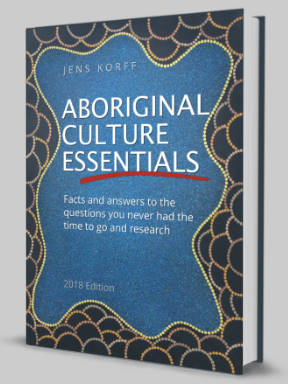 Wishing you knew more about Aboriginal culture?
Search no more.
Get key foundational knowledge about Aboriginal culture in a fun and engaging way.
This is no ordinary resource: It includes a fictional story, quizzes, crosswords and even a treasure hunt.
Stop feeling bad about not knowing. Make it fun to know better.
Selected statistics
85

50,000

1,644m

$7.2m

14
About Bangarra Dance Theatre
We dance when there's a big ceremony like an initiation ceremony…, we dance when there's a death in the family. We celebrate life and death through dance.

— Kathy Balngayngu Marika, Aboriginal elder and Bangarra Dance Theatre dancer [7]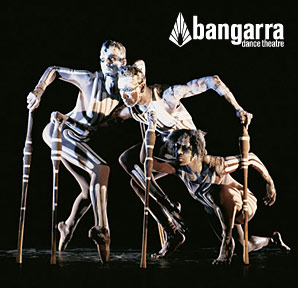 Bangarra Dance Theatre is one of Australia's most successful Aboriginal performing arts companies, fusing Aboriginal culture with contemporary dance. Carole Johnson, an African-American arts administrator who came to Australia in 1972, founded Bangarra in 1989 [3]. 'Bangarra' means 'to make fire' in the Wiradjuri language of south-east Australia and is reflected in the company's logo.
Bangarra's artistic director and choreographer is Stephen Page who danced with the Sydney Dance Company before being appointed in 1991. He created more than 12 new works for the company and 5 for the Australian Ballet. He choreographed the 2009 film Bran Nue Dae.
David Page, Stephen's brother, was for a long time the musical heartbeat of Bangarra, composing scores for 27 of the company's 35 major works. His style was a modern mix of traditional language, song and instrumentation with the sounds of electronica, hip-hop, classical and nature. David had a talent for giving voice to country and to land that could awaken emotions from deep within. He also contributed the scores to numerous Aboriginal movies. He died unexpectedly on 29 April 2016, aged only 55.
Frances Rings, who has been with Bangarra since 1993, started as a dancer, then became the contemporary dance company's choreographer. She moved on from Bangarra in 2005 to work as a freelance choreographer in Australia and the United States.
"I love that dance has a healing quality. The most tragic stories can become something beautiful," Rings says. [8] "At Bangarra, I love that the dance is not shoving things down your throat saying, 'Yeah, you white people have done this and that'. Instead it's saying we've got this amazing, beautiful culture here. We've had social issues, we've had genocide, we've had these things happen to us but look at what we have now. We can tell our stories with the majesty and poetry that the best dance can deliver and through a contemporary dance language that also holds the traces of a culture that is thousands of years old.
"I can see we have a responsibility to these stories and every time we perform them and pass these stories on, it changes people's lives.
"When you sit down and see a Bangarra show, you don't realise you've just been given a 50-minute history lesson, you just feel like you've been taken on a journey and it comes back to you in waves... You remember things from the show when you're making a cup of tea the next day."
Being a student
Bangarra performers study classical ballet, contemporary dance, Pilates and yoga. They also have traditional dance with a focus on repetition and movement in the legs and core. [9]
For each new Aboriginal dance Bangarra spends time with a cultural consultant to ensure the movements are performed the traditional way. [10]
Once a year students visit rural Aboriginal communities. Apart from giving free workshops and performances it is an opportunity for them to learn the "living culture" where the language, dance and stories Bangarra takes inspiration from are still alive. This is especially important for younger students who don't know much about their culture and struggle to connect. [10]
The company has 15 dancers who come from all over Australia, reflecting many Aboriginal cultures. 70% of its 34 full-time staff are of Aboriginal descent. [11]
Dance doesn't always have to be a high octane bash-and-bang performance. It's also about subtlety.

— Frances Rings, Bangarra choreographer [12]
The dancing grounds are where we connect with our ancestors, where our heritage, language and identity are passed on.

— Phillemon Mosby, Torres Strait Island regional councillor [13]
History of Bangarra's performances

Usually Bangarra creates at least one new performance each year. Here is a timeline showing you their program since 1992.
Bangarra timeline of performances
Year
Performance
1992

Praying Mantis Dreaming

Praying Mantis Dreaming tells the story of a young Aboriginal girl on her journey from her traditional homelands to the city. The Spirit of the Preying Mantis Dreaming watches over both worlds, guiding and protecting the Aboriginal inhabitants, and encouraging the girl to seek her cultural heritage.
1993

Ninni

(no further information available)
1995

Ochres

In all its forms and colours, ochre is essential to the life of Aboriginal communities. This four-part contemporary dance work – yellow, black, red and white – is a portrayal for each colour of this earthy substance, its myriad of purposes and the spiritual significance to Aboriginal people.

With Ochres Bangarra made itself known internationally for the first time.

1997

Fish

Fish celebrates the seas, the rivers, the swamps and the wealth of life and mystery they contain. Chapters: Swamp - Traps - Reef.

Rites

(no further information available)
1999

The Dreaming

Steeped in the cultural heritage of Aboriginal people The Dreaming combines ancient myth with electrifying movement and music from the contemporary urban world. It journeys across Australia's sweeping landscapes and waters resonating with the spirit of the country and its people.
2000

Skin

Skin is about the complexities of Aboriginal kinship. It is about accepting and respecting it - and that it is still alive. Chapters: Shelter - Spear.

Awakenings

(no further information available)
2001

Corroboree

(no further information available)
2002

Walkabout

Walkabout traces an extraordinary history of indigenous struggle and survival from the early missions and stations of outback Australia to the neon soaked streets of our modern day cities.

Rations and Rush (double bill)

(no further information available)
2003

Bush

Bush is inspired by the Dreamtime creation stories of Arnhem Land. From the last breath of sunset to the first finger-light of dawn, the audience enters a mysterious and secret space - reptilian creatures slither from dark caves, a moth emerges from its cocoon, the land erupts pushing up mountains and carving waterholes--the world is being born.
2004

Clan: Unaipon and Reflections (double bill)

Unaipon is inspired by the life and vibrant intellect of Aboriginal inventor, writer and philosopher, David Unaipon, who is featured on the Australian $50 note.Reflections brings together excerpts from milestone works such as Ochres, Fish and Skin which are woven together into one sensual and emotive theatrical experience.
2005

Boomerang

Caught between two worlds - one ancient, one modern - a family returns to their traditional land to rekindle the sacred wisdom of the past for future generations.

Spirit

The majority of Spirit features highlights from the company's sell-out production Bush, as well as treasured moments from Bangarra's vast repertoire.
2006

Gathering

An electrifying meeting place between Indigenous Australian culture and contemporary Western dance, this landmark production brings together dancers from Bangarra and The Australian Ballet.Gathering is made of two dance works - Rites and Amalgamate - and explores contemporary and ancient Australian cultures with drama, imagination and physicality.
2007

True Stories: Emeret Lu and X300 (double bill)

Emeret Lu ('Very Old Things') - the passion and energy of the traditional people of the Torres Strait Islands. Choreographer Elma Kris explores her peoples' love of the land, the sea and their unique culture with an exuberance handed down from generation to generation.Between 1955 and 1963 a series of British atomic explosions were conducted on Maralinga, Tjarutja traditional lands in the remote western areas of South Australia. The code name of the test site was X300. This work powerfully and spectacularly explores a landscape assumed vacant but which in reality became a contaminated desert which poisoned the people.
2008

Mathinna

Inspired by a young girl's journey between two cultures, Mathinna traces the fragmented history of a young Tasmanian Aboriginal girl removed from her traditional life and adopted into Western colonial society, only to be ultimately returned to the fragments of her original heritage.
At Oyster Cove, Tasmania, a colonial settlement from the 1800s, 47 Aboriginal people, including the young Mathinna, were incarcerated. Mathinna was forced to move to Oyster Cove in 1847 along with the other Indigenous people who had been relocated to Wybalenna on Flinder's Island after being compulsorily and officially removed from their traditional lands across Tasmania by the colonial government of the times. At Oyster Cove, Mathinna took to heavy drinking, which contributed to her tragic death by drowning in 1852. She was only 21 years old.
2009

Fire - A Retrospective

Fire - A Retrospective features the most memorable and potent elements of the company's repertoire during this extraordinary and dynamic artistic period.
2010

Of Earth and Sky

This double-bill shows Artefacts which was inspired by the history between man and object and is choreographed by Frances Rings. Daniel Riley McKinley's Riley is his first choreographic endeavour for Bangarra and celebrates Indigenous photographer Michael Riley.
2011

Belong

Belong features two dance theatre pieces: ID by Artistic Director Stephen Page draws upon his personal experiences of observing contemporary Aboriginal people tracing their bloodlines, re-connecting with their traditional heritage and living modern Aboriginal lives in a challenging urban society.
About by dancer and choreographer Elma Kris was inspired by creation stories from Saibai Island, located in the Torres Strait between the Australian mainland and the island of New Guinea. Elma Kris weaves a contemporary fusion of song and dance, reflecting the exuberance of Torres Strait Islander cultures.
2012

Night Sky

Night Sky is a collaboration between Bangarra and the Australian Ballet Company, Australia's national ballet company, as part of their 50th Anniversary celebrations. For the first time The Australian Ballet help tell a traditional Aboriginal story – that of the night skies of Arnhem Land, beginning with the first evening star.

Terrain

Inspired by the landscape of one of Australia's greatest natural wonders Terrain explores the metamorphosis and timeless beauty that is Lake Eyre.

Warumuk - in the Dark Night

Warumuk is inspired by Aboriginal stories about the stars in the universe, drawing from Aboriginal astronomy, the lunar eclipse, and the myths around the constellation of the seven Sisters. It combines orchestra with traditional Aboriginal songs.
2013

Blak

Blak places culture at the heart of our existence. It reaffirms the powerful experiences of rites of passage for young people as they transition to adulthood. By embracing their responsibilities, these young people become a critical link in the songlines that connect our future with our ancient past.Based on the myriad of stories told by Bangarra's young artists, their personal appreciation for traditional customs and practices drives the central themes of Blak. Culture, language and survival are intrinsically linked in the urban world of changing social behaviours.

Dance Clan 3

For the Corroboree Sydney 2013 festival, Bangarra created Dance Clan 3, four works that explore Aboriginal and Torres Strait Islander story lines and extend an invitation "into the heart and soul of Bangarra to experience [their] inspirational contemporary culture".
2014

Patyegarang

As the colonial fleet arrived on Eora country in the late 18th century, Patyegarang befriended the colony's timekeeper, Lieutenant William Dawes, gifting him her language in an extraordinary display of trust and friendship, which now inspires our imaginations about 'first contact'.

In Dawes' notebooks, rediscovered in 1972, are transcripts of this remarkable cultural exchange. Patyegarang's words are a window into a rich, complex and utterly different perspective on her world, its values and its sacred meanings.

2015

Lore

Lore is a production of two works, taking you on a dance experience of Australia's homelands in a celebration of Aboriginal Australia.

Choreographer Frances Rings wrote the stories of She Oak – the Grandmother Tree, a symbol of shelter, medicine and protection, with the tree standing as a true witness to the changing lives of each new generation and a testimony to their birthright.


With IBIS Deborah Brown and Waangenga Blanco invite you to their homeland in the Torres Strait, from the enigmatic waters of the islands to the frozen section of the local IBIS (Islanders Board of Industry and Service) supermarket stores.

2016

Spear

Spear is Bangarra's first dance feature film. Based on the 2000 production of the same name, Spear is directed by Stephen Page.

Our Land People Stories

"Our Land People Stories" is a triple bill with the following performances:

Artistic Director Stephen Page tells the story of internationally acclaimed visual artist Nyapanyapa Yunupingu from North East Arnhem Land. This piece draws inspiration from her incredible life story and paintings.

Jasmin Sheppard's Macq (first performed in 2013 during Dance Clan 3) is brought to the main stage, exploring the March of Macquarie on 17 April 1816 in Appin, west of Sydney - a historical chapter that decimated Sydney's Aboriginal community.

Daniel Riley and Beau Dean Riley Smith create Miyagan , a poignant dance story mapping their cultural heritage in a discovery of their family background on Wiradjuri country in New South Wales.

2017

Bennelong

Woollarawarre Bennelong was a senior man of the Eora, from the Port Jackson area in Sydney. In a tumultuous time of Australia's history, Bennelong and the Eora Nation transcended "first contact", leaving us a legacy that is still so tangible in our 21st century. Bennelong highlights the extraordinary curiosity and diplomacy that led an Aboriginal community to survive a clash of cultures.This triple bill takes audiences across Australia, from North East Arnhem Land's red dust, to the waters of the Torres Strait Islands – home of the salt-water creature, the Dugong – to urban Aboriginal life looking at gender challenges and the human spirit.
2018

Dark Emu

Dark Emu was inspired by Bruce Pascoe's award-winning book of the same name. Using the book as a starting point, the performance explores the vital life force of flora and fauna in a series of dance stories, with pre-recorded quotes from Pascoe woven into the production.

Dubboo – Life of a Songman

This program celebrates the life of the late David Page. 'Dubboo' was his nickname. It shows two sides of David: The composer who wrote 27 scores for Bangarra, and the boy who loved staging his own floor shows for the family. As a man David staged his own one-man show, called Page 8. This is a one-off celebration of a man who gave his heart and soul and shaped a significant chapter of Bangarra's history.

2019

Knowledge Ground: 30 years of 65,000 years

This year Bangarra celebrates its 30th anniversary season with a display of contemporary dance theatre, inspired by 65,000 years of culture and the continual evolution of Aboriginal storytelling.

2020

Sandsong

In celebration of its fourth decade, Sandsong traces the ancient memories embedded in Kimberley Country, and creates new narratives for Aboriginal futures.

Resonating under the vast Kimberley sky lie the stories of people and Country. Through the pindan red dust and dry spinifex grass, the undulating sandhills give rise to the movements of people in a shifting cycle of displacement and discontent.

At the heart of this is the Jila – Living Water, a symbol of ancient knowledge and power, and a connection back to the Ancestral lands of the old people.

As we journey through the cultural landscape, we uncover ancient story systems embedded in the land, and passed on to a new generation struggling to navigate cycles of government policy and social dysfunction across a fractured cultural divide.

Sandsong was created in consultation with the Wangkatjungka / Walmajarri Elders from the Kimberley region.

Note: Due to the coronavirus pandemic in 2020 Bangarra had to postpone this performance.

2021

Spirit

Spirit: A Retrospective 2021 is a collection of dance stories taken from Bangarra's 31-year repertoire. It invites audiences to connect with stories and songlines drawn from all over Australia, in a celebration of First Nations Peoples' unbroken connection to the land.
We are storytellers. And the best way any culture reflects itself is by telling stories. Stories tell us where we've come from, where we're going. They celebrate, explain, lament. They can be weapons too. The Australian identity needs Indigenous storytelling.

— Stephen Page, artistic director, Bangarra Dance Theatre [3]
Fact
Bangarra has a special 'paint up' room where ochre and paint is applied for the performance. The entire room is covered in black plastic to protect the décor and has to be mopped down every night [14]. The dancers use more than 100 kg of ochre per year. [15]
Dancer/choreographer Daniel Riley McKinley is covered from head to toe in grey paint at the beginning of Artefact, and has only one minute and forty-five seconds to remove it backstage before he has to re-appear in another section of the work [14].
For more information and performance schedule check out www.bangarra.com.au.

You can purchase Bangarra Theatre's DVDs and CDs in their shop.
You can also read booklets of previous performances.