Arts
Australian Aboriginal artists
Browse a concise list of Aboriginal artists—painters, photographers and writers.
Close this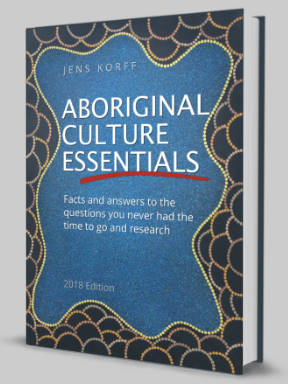 Wishing you knew more about Aboriginal culture?
Search no more.
Get key foundational knowledge about Aboriginal culture in a fun and engaging way.
This is no ordinary resource: It includes a fictional story, quizzes, crosswords and even a treasure hunt.
Stop feeling bad about not knowing. Make it fun to know better.
Aboriginal opera singers
Deborah Joy Cheetham is a soprano, actor, composer and playwright. She is a member of the Stolen Generations and niece of Jimmy Little. Cheetham graduated from the NSW Conservatorium of Music with a Bachelor of Music Education Degree.
Delmae Barton is the mother of musician William Barton and a member of the Stolen Generations.
Don Bemrose from the Sunshine Coast is Australia's only classically trained male Aboriginal opera singer [1]. He holds a Bachelor of Music degree at the Queensland Conservatorium. Mr Bemrose played a lead role in Australia's first Aboriginal opera, Pecan Summer.
Harold Blair (1924-1976) was a tenor who spent some time in the United States. He earned a Diploma of Music with honours in 1949.
Aboriginal painters
Adam Hill is a contemporary Aboriginal painter who labels himself as a "visual activist".
Albert Namatjira was born as Elea in the desert in Arrernte country, Central Australia, in 1902. Two years later he was baptised Albert. Thirty one years after that, at his first solo exhibition of watercolour landscapes, he signed his work with his father's surname for the first time: Albert Namatjira. At the height of his fame, Albert Namatjira's shows sold out within minutes. He supported over six hundred members of his community, lost two of his ten children to malnutrition, was forbidden to own land, imprisoned for having a drink with his friends, and died a broken man.
Alick Tipoti is from Badu Island in the Torres Strait.
Bronwyn Bancroft has illustrated more than 20 children's books receiving numerous awards. Her career spans three decades, and she was invited as the first Australian fashion designer to exhibit in Paris in 1987 [2].
Non-Aboriginal kids need to get a perspective on pre-colonisation and post-contact. They can through art, and the kids love it.

— Bronwyn Bancroft, Aboriginal artist and illustrator [3]
Clifford Possum Tjapaltjarri
Danie Mellor is a controversial artist from Canberra because "neither he nor his art look Aboriginal" [4] (he has white skin and red hair). He was described as "one of the leading contemporary artists of his generation" [4].
David Malangi Daymirringu, whose work appeared on Australia's one dollar note (now no longer in use).
Dickie Minyintiri was born in about 1915. He's a Ngangkari (traditional healer) and senior law man. In 2011 he won the Telstra Award for his artwork 'Euro Tracks'. Minyintiri began painting in 2005.
Emily Kame Kngwarray is considered one of Australia's most important female artists [5]. She lived all her life in the remote desert region of Utopia in the NT, taking up painting on canvas only in her late 70s. She transformed her style multiple times during her 8-year career before her death in 1996.
Fred Untjima Forbes was known to often sing while painting. His loose gestures overlaid a strong sense of design which recalls th spaces and tracks and richness of his home country in Papulankutja (or Blackstone), between the western and great Victorian deserts. Fred passed away in early 2008.
Ginger Riley Munduwalawala He paints no sun or moon because he doesn't have the rights to those stories.
Gordon Bennett (1955 - 2014) completed his art training at the Queensland College of Art in 1988. He discovered his Aboriginality in his mid-teens. Bennett was invited to show at the Contemporary Art Fair in New York in 1998. Bennett is said to be the first artist to explore Aboriginal past using conceptual art techniques.
Harold Joseph Thomas was born in 1947 in Alice Springs to a Luritja woman and a Wombai man. A watercolourist and oil painter, Harold has a deep love for the country and its wildlife, and presents it in a unique and timeless way, never showing the intrusion of modern times.
Hector Burton comes from the Amata community in South Australia and ranks among Australia's most eminent and collectable Aboriginal artists.
Jandamarra Cadd is a Yorta Yorta man from Victoria but works at the Sunshine Coast as an artist and art teacher. Painting since he was 15 years old, he combines traditional Aboriginal art with modern portraiture.
Joe Aliminidjin Rootsey was one of the first Indigenous people in Queensland to be recognised as a contemporary artist in the 1950s. He was then promoted as the 'second Namatjira'. In 1958 the Wuriingu man took classes at an art school. Joe died 1963 aged only 45 from tuberculosis [6].
John Balang Mawurndjul is a Kuninjku man from Mumeka and Maningrida, Western Arnhem Land, NT, and considered Australia's "premier bark painter" and "one of our greatest artists of all time".[7] who learned his painting skills from his father-in-law. 'Balang' is his skin name. He is one of the most experimental bark painters of his region and takes inspiration from mardayin, the local ceremonies. Besides painting he does carving, weaving and batik. His works are famous for their meticulous attention to detail and very fine rarrk (crosshatching) technique, often depicting the rainbow serpent (Ngalyod). Mawurndjul is the first Australian artist to present a retrospective at two major European museums. His work has won him several prizes and been shown all over the world including New York, Japan, Switzerland, Germany and Paris.
Mawurndjul is not simply Australia's premier bark painter, he is one of our greatest artists of all time.

— John McDonald, Sydney Morning Herald [7]
Judy Watson was born in Mundubbera and from the Waanyi people from north-west Queensland.
Julie Dowling is a Badimaya/Yamatji Aboriginal contemporary realist portrait painter of Maddington, near Perth, WA. Her first solo exhibition was in 1995 at Fremantle Arts Centre. She is one of Australia's most collected artists. Her works draw on the diverse art traditions of European portraiture, Christian icons and Aboriginal Australian iconography.
Karla Dickens has been an artist for 20 years, and created Madonna paintings.
Kevin Gilbert (1933-1993) was a writer, visual artist, poet, playwright and political activist. He participated in the 1972 establishment of the Aboriginal Tent Embassy in Canberra and the 'Treaty 88' campaign. He saw art as the most powerful tool to draw attention to continued injustices suffered by Aboriginal people, and to suggest ways forward.
Kutuwulumi Purawarrumpatu (Kitty Kantilla)
Mick Namarari
Munggurrawuy Yunupingu
Munmarriya Daisy Andrews, born in 1935 in the Kimberley area, WA, started painting with artists' materials in 1991. She was adept at producing very large works, including a backdrop for the opera Alcina. She was one of the artists who produced the iconic Ngurrara canvases in support of native title claims. She died in January 2015.
Paddy Bedford (1922–2010) is a Gija Elder from the Warmun region of the north-east Kimberley. He is recognised for his sparse paintings of country, Dreaming stories and the dark aspects of the Kimberley history.
Peter Marralwanga (1917–87)
Peter Waples-Crowe is a gay Koori artist from Wollongong, NSW. A lot of his work is about tackling notions of homogeneity within Australia's Aboriginal population. His work Genderbender Us and Them was shortlisted in the 2014 Victorian Indigenous Art Awards (VIAA).
Philip Gudthaykudthay. Often known as 'Pussycat', after his totem of the Australian native cat, Burruwara, Philip Gudthaykudthay has spent most of his life around Ramingining, Central Arnhem Land, where he was born. In 1983, he became the first Aboriginal artist to have a solo exhibition at a contemporary art gallery in Sydney.
Richard Idagi comes from the Torres Strait Islands.
Ronnie Tjampitjinpa
Rover Thomas was picked up by a drover on the Canning Stock Route when he was a little boy and taken to Billiluna, near Balgo, where he became a stockman himself. Eventually he ended up in Turkey Creek in the Kimberley, Western Australia. Rover Thomas now is one of Australia's most internationally respected artists [8]. In the 1970s he pioneered the technique of ochre painting on canvas which became known as the East Kimberley school.
(Ruby) Kunmanara Williamson was a senior Pitjantjatjara law woman born around 1940 in the bush, somewhere out west of Amata. Ruby has been painting with Tjala Arts since 2000 and received attention and acclaim for her unique, contemporary style and imagery that's distinctly modern. The National Gallery of Australia purchased a selection of her prints in 2004. Her first solo show was in 2003.
Rusty Peters
Shorty Jangala Robertson was born around 1925 at Jila (Chilla Well). He was well into his 70s when he started painting, but he soon became an active member of Warlukurlangu Artists Aboriginal Association, the art centre located in Yuendumu. His first solo exhibition was in Melbourne in 2003. He has also exhibited in Sydney, South Korea, Texas, Hong Kong, Bahrain and Germany.
Sonia Kurrara from the Walmajarri tribe, Western Australia. She grew up at Yungngora (Noonkanbah), an area she constantly reproduces, painting rivers, rocks and pandanus palms.
Tim Leura Tjapaltjarri is a Pintubi artist from Papunya.
Vincent Namatjira is the great-grandchild of Albert Namatjira. He picked up painting in 2011, and his works hang in the Queensland Art Gallery and the British Museum. His bold, graphic works are wry commentaries on politics and black Australia.
Wakartu Cory Sunrise was born in the Great Sandy Desert, Western Australia, around 1929. She first started painting in the early 1980s. "Painting was how I told my story to kartiya [white people]," she says [9].
Wamud Namok is believed to be the last Aboriginal artist to have painted works on the rock walls of western Arnhem Land. His early work, with its intricate x-ray style, can still be found in sandstone shelters today. Namok died in 2009 aged 83 [10].
Warlimpirrnga Tjapaltjarri, a Pintupi man, might have been born in the early 1960s. He was among 9 Aboriginal people who weren't confronted with white people until 1984 ("Pintupi Nine", "Lost Tribe"). He paints ceremonial Pintupi designs that used to be put on rocks, spears and bodies. Most of his paintings are abstract.
Wentja Napaltjarri is said to be one of Australia's top collectable artists.
Yannima Pikarli Tommy Watson is a Pitjantjatjara artist painting huge canvasses in bold, vibrant colours. One of his paintings fetched $240,000, the highest amount paid for a living Aboriginal artist. He began painting in 2001 aged 66. Watson's work is in the collections of both the National Gallery of Australia and state art galleries, including NSW.
As a Pitjantjatjara elder and law man, he refused to use sacred Aboriginal symbols , believing it was wrong to reveal them to outsiders and that Aboriginal artists who did in the early days of the desert art movement in the 1970s suffered badly or died as a result.
Yirawala (1887–1976) was once dubbed "the Picasso of Arnhem Land" for his intricate rarrk style. [7]
Art is not about pleasing others' aspirations. To me, it's an exploration and teasing out of ideas, cultures, feelings and the unknown.

— Brook Andrew, Aboriginal painter [11]
When I paint, I think about my country and where I have been travelling across that country… I think about my people, the old people and what they told me and jumangkarni [Dreaming]. When I paint I am thinking about law from a long time ago.

— Wkartu Cory Sunrise, Aboriginal painter [9]
Aboriginal photographers

Barbara McGrady is a Gamilario/Murri woman has been photographing the social history of contemporary Aboriginal life for over 30 years. From Sports to politics, her vision is a unique perspective from within a community empowering her subjects by this virtue alone.
Brenda L Croft
Brook Andrew
Christian Bumbarra Thompson
Darren Siwes
Dianne Jones lives in Melbourne, but was raised in Northam and Perth. Daughter to a shearer and painter, she enjoys being provocative in her photography.
There are a lot of sad and tough stories in our history, but these aren't the only stories I want to tell.

— Dianne Jones, Aboriginal photographer [11]
Merv Bishop started out as a black-and-white news photographer. He also worked for the Sydney Morning Herald. One of his most famous shots is when Prime Minister Gough Whitlam poured soil into the hands of traditional owner Vincent Lingiari in 1975.
Gary Lee
Genevieve Grieves is an Aboriginal photographer from the Wrimi nation in the mid north coast of New South Wales. She studied cinematography at the University of Technology Sydney and worked on the SBS series First Australians.
Michael Aird
Michael Riley
Peter McKenzie was born in Sydney's suburb La Perouse and did a PhD at the University of New England.
Richard Bell was born in Charleville (700km west of Brisbane) and now lives in Brisbane.
Ricky Maynard is a self-taught Aboriginal documentary photographer from Launceston, Tasmania. He came to prominence in the late 1980s with a photographic essay about Aboriginal mutton bird farmers.
Tony Albert
Vernon Ah Kee hails from far north Queensland and now lives in Brisbane. He has exhibited widely overseas.
Wayne Quilliam's photographs have been published in more than 500 publications and exhibited all over the world. He has spent more than 20 years working with more than 50 different communities in Australia. Wayne Quilliam Photography is the premier Aboriginal photographic company in Australia. With one of the largest privately Aboriginal owned photographic libraries it provides a culturally sensitive and appropriate service.
Aboriginal visual artists
Alick Tipoti from Badu Island in the Torres Strait is the winner of the The Wandjuk Marika Memorial Award at the 31st Telstra National Aboriginal and Torres Strait Islander Art Awards in 2014.
Jason Coulthard is an Adnyamathanha man from Port Augusta, South Australia. Jason specialises in sketching and digital design, which allows him to combine his clan's language, which is fast disappearing, with the beauty and harshness of the Australian landscape to create beautiful Indigenous designs for his clothing range.
Nicole Foreshew is a Wiradjuri Sydney-based artist who in 2014 won the Parliament of NSW Aboriginal Art Prize for her photographic work as well as the NSW Aboriginal Arts Fellowship.
Aboriginal weavers
Batumbil Burarrwanga is a traditional owner, leader, master artist and weaver living at Mata Mata, on the Arafura Sea, North East Arnhem Land.
Yvonne Koolmatrie is a Ngarrindjeri weaver.
Aboriginal writers
Black Words is an online database allowing you to research Aboriginal writers and their works. It contains more than half a million records including biographical entries.
You have to log in to search. Use username bw and password guest: www.austlit.edu.au/BlackWords.
Red Ochre Award recipients 1993-2015
The National Indigenous Arts Awards were established by the Australia Council's former Aboriginal and Torres Strait Islander Arts Board, consisting of leading Aboriginal artists, curators and arts managers, to recognise the outstanding work and achievements of their fellow artists. The awards are decided by a national panel of Aboriginal arts peers from each state and territory, including the Torres Strait.
The Red Ochre Award has been awarded since 1993 for lifetime achievement to an outstanding Aboriginal artist.
2018 Mavis Ngallametta and John Mawurndjul AM
2017 Ken Thaiday Senior and Lynette Narkle
2016 Yvonne Koolmatrie
2015 Gary Foley
2014 Hector Burton
2013 David Gulpilil
2012 Warren H Williams
2011 Archie Roach
2010 Michael Leslie
2009 Gawirrin Gumana
2008 Doris Pilkington Garimara
2006 Tom E. Lewis
2005 Seaman Dan
2004 John Bulunbulun
2003 Jimmy Little
2002 Dorothy Peters
2001 Banduk Marika
2000 Mervyn Bishop
1999 Justine Saunders
1998 Bob Maza
1997 Jimmy Chi
1996 Maureen Watson
1995 Rita Mills
1994 Mick Namarari Tjapaltjarri
1993 Eva Johnson
The Dreaming Award, for a young Aboriginal artist aged 18-26, was first awarded in 2012:
2018 Thomas E.S. Kelly
2017 Teila Watson
2016 Nooky (Corey Webster) (rapper)
2015 Kahl Wallis (singer-songwriter and front man of The Medics)
2014 Tyrone Sheather (multimedia artist)
2013 Rhonda Dick (photographer)
2012 Nakkiah Lui (playwright)
More resources