Arts
What are Wandjinas?
Discover the sacred Wandjinas and that it is not good to paint them without permission.
Close this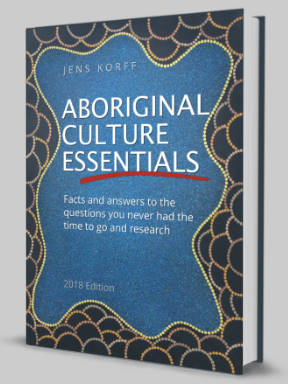 Wishing you knew more about Aboriginal culture?
Search no more.
Get key foundational knowledge about Aboriginal culture in a fun and engaging way.
This is no ordinary resource: It includes a fictional story, quizzes, crosswords and even a treasure hunt.
Stop feeling bad about not knowing. Make it fun to know better.
Wandjinas are sacred
Wandjinas are only found in the Kimberley region (north-eastern Western Australia), nowhere else in Australia.
They are deeply spiritual to the people of this area, the Mowanjum people, who comprise three language groups, the Worrorra, Ngarinyin and Wunumbal [1].
To these people, the Wandjina is the supreme Creator and a symbol of fertility and rain. Their ancestors have been painting Wandjina (also spelled wanjina) and Gyorn Gyorn (also called Gwion Gwion) figures in rock art sites scattered throughout the western Kimberley for millennia. This is the oldest continuous sacred painting movement on the planet.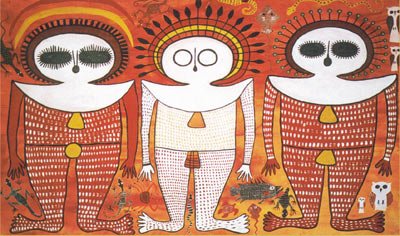 Unique to the Mowanjum people, Wandjinas (sometimes pronounced 'wannias') have large eyes, like the eye of a storm, but no mouth. It is said they have no mouth because that would make them too powerful. They are often depicted with elaborate headdresses, indicating different types of storms.
To the Mowanjum people, the elegant, elongated figures of the Gyorn Gyorn depict their long-ago ancestors, before the Wandjinas brought the law. Gyorn Gyorn paintings in rock art sites have been dated at 20,000 years and are often over-painted with Wandjinas and other imagery. These figures are sometimes known as Bradshaws.
In a lot of Western Australian Aboriginal languages "jina" means "feet", and therefore some see a connection between Wandjinas and the sacred act of walking the land.[2]

Fact
A 12-metre high Wandjina rose up in the 2000 Sydney Olympics opening ceremony.
A Wandjina also appeared projected onto the sails of the Sydney Opera House during the 2016 Vivid festival.
Inappropriate Wandjina figures
Following proper cultural protocol, only Aboriginal people who went through the law are allowed to use Wandjinas. "Only a few Aboriginal artists ever win the right to depict Wandjinas, and only then after years of initiations and ceremonies," says Adrian Newstead, owner of Coo-ee Aboriginal Art Gallery in Bondi, NSW [3].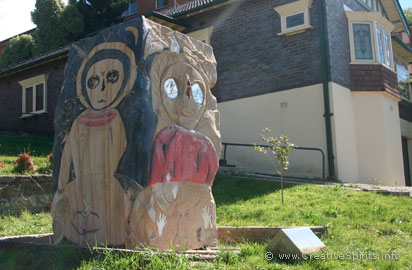 Chris Tobin, a member of the Eora people from New South Wales, explains that "Aboriginal law is very specific on what you can and can't do with Wandjinas... It's totally inappropriate for a non-Indigenous person to be doing Wandjinas, especially without permission." [3]
Chris refers to an incident in the Blue Mountains when artist Ben Osvath created a wandjina sculpture for art gallery owner Vesna Tenodi [3]. Tenodi maintains that "in art it's anything goes"—but he was very wrong.
"It's presence mocks and denigrates the spiritual beliefs of the Worrorra people," says Worrorra Elder and senior lawman Donny Woolagoodja in his submission to the NSW Land and Environment Court. The court upheld in June 2011 a decision by the Blue Mountains City Council to have the offending artwork removed [4].
Similarly, when scores of Wandjina paintings appeared on walls, trees and fences in the greater Perth area Aboriginal people were very angry. But in Perth the creator of the paintings could not be identified.
As an Aboriginal, I am upset at the way my choice to greet and respect the Wandjina (law) has been taken from me. You aren't supposed to just walk up to Wandjina and take a photo. You aren't supposed to look at him unless the correct rites have been conducted. It's disrespectful.

— Aboriginal blog commentator [5]
The film Who Paintin' Dis Wandjina? examines the events in Perth.

Where can you purchase Wandjina images?
Mowanjum people continue to paint the Wandjina image, reinterpreting this astonishing tradition through contemporary practice and mediums.
The Mowanjum Art and Culture Centre in Derby is a 100% Aboriginal-owned art centre, managed by a committee of artists. The centre provides significant income to many Aboriginal community members through the sale of works of art and also supports important social and cultural activities, including the transmission of culture. It offers a culturally appropriate way to learn more about Wandjinas.