Synopsis
While the British and Australian governments were trying to test space rockets, members of the nomadic Indigenous population in the Great Sandy Desert, south of Broome (Western Australia) were still living off the land, surviving in extreme conditions.
The group of 20 Martu people were unaware that there was a modern society beyond the 141,000 square miles of desert they called home. They were still living a traditional life ignorant of the fact that their country had been colonised for nearly 200 hundred years.
In 1964, two officers from the Weapons Research Establishment were clearing a barren dump zone where a series of rocket tests were to take place when they came across the area's Indigenous owners.
In this documentary, Yuwali, who was 17 at the time, recalls the Martu's startling first contact and eventual removal from their homeland. Now 62, she describes with hindsight and humour the terrifying experience of seeing her first whitefella and her first moving car (she thought a rock had come alive).
Her storytelling is powerful and direct, and directors Martin Butler and Bentley Dean do well to let her speak for herself without editorialising. They have crafted a fluent narrative out of a few basic elements: eyewitness accounts, original footage, and a hauntingly beautiful landscape. This is a startling piece of history as well as a very human story.
'Contact' could be the most profoundly-moving film this country has ever made; the film the 'Sorry Generation' deserved; the personal story of displacement and forced detachment that will burn into the fibre of our national identity the reality behind this countries shameful treatment of its indigenous people.

— Simon Foster, SBS Film
Sue Davenport's book Cleared Out: First Contact in the Western Desert tells Yuwali's story which also resonates in today's debate about the future of many Indigenous desert communities. Cleared Out combines three oral histories, detailed archival research and a wealth of photographs and rare film footage from the patrol.

Tip
The Australian Institute of Aboriginal and Torres Strait Islander Studies offers a book & DVD bundle for Contact and Cleared Out.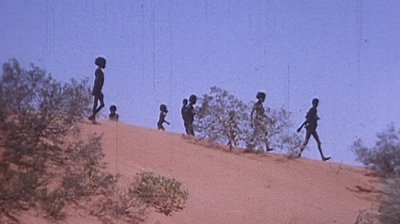 Details
Cast

Yuwali - herself

Release dates

4 June 2009 - World Premiere at the Sydney Film Festival

Video/DVD release date

2010

Rating

PG - Parental guidance

Distributor

Contact Films Pty Ltd

Soundtrack

Antony Partos

Notes

Contact is in English and Martu.

Contact is based on the book Cleared Out: First Contact in the Western Desert, by Sue Davenport, Peter Johnson, and Yuwali.

Yuwali was born at Yulpu rockhole in the heart of Percival Lakes, Great Sandy Desert, Western Australia.

The incredible meeting was captured on film by Walter MacDougall, a patrol officer appointed by the government to clear the indigenous people out of the areas in central Australia which had been mapped out to be used as part of the rocket-testing range.
Watch now or find a DVD/BlueRay copy
Browse a list of Aboriginal film suppliers and distributors
Other films by Martin Butler & Bentley Dean