Synopsis
Custard tells the story of a young Aboriginal woman who visits her grandmother after the death of the grandfather. She is looking for answers to her many questions.
Although a sad film it is not without humour when the granddaughter reads out a 'modified' death certificate where the old man died of an overdose of custard.
Custard is based on a true story and set on beautiful Stradbroke Island in Queensland, home of the director Michelle Blanchard.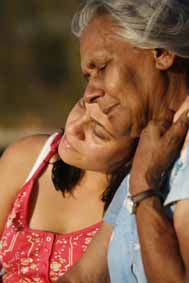 Director Michelle Blanchard says about her film: "Grandma's house is two miles from town and the majority of people in town would have probably been in her kitchen for a cuppa. Perhaps they used the same chipped cup as me and no doubt fiddled with their own spilt sugar on the tablecloth.
"Yet, every time I'd sit in that old fibro house, embroidered by huntsman spiders and cracks in the floor, I didn't want to be anywhere else in the world as we'd sip our tea, smoke "winnie reds" and listen for the sound of another barge pulling in and hear the wheels of another thousand four wheel drives rolling effortlessly onto the island.
"You don't have to be the saviour, the solution, or the sponge that soaks up the mess, no one's perfect. My grandmother taught me that. She also once said to me "be careful what you say and never write anything down". So what do I go and do?...Attempt to become a writer? Love you Phyllus." [1]
Details
Cast

Freda Glynn - Grandmother
Amy Miller-Porter - Granddaughter

Release dates

May 5, 2007 - Australia (World premiere on the Message Sticks Indigenous Film Festival)

Video/DVD release date

2007, Bit of Black Business

Rating

G - general

Distributor

Flickerfest

Soundtrack

Jeff Dunn

Notes

Michelle Blanchard is an Indigenous woman, descendant of the Nugi and Nunnuccal clans of North Stradbroke Island (Minjeeribah), Queensland. She also is a writer and lectures Aboriginal Studies at Sydney Uni.
Watch now or find a DVD/BlueRay copy
Browse a list of Aboriginal film suppliers and distributors
Other films by Michelle Blanchard