Synopsis
A little girl observes how her mother reads a letter and cries. She's determined not to make this happen again.
Eagerly she waits for the mailman to pass by. Then she collects all the letters of the neighbourhood she can get hold of and stashes them away in an electrical distribution box.
Her mum is caught in her own sadness about her recent breakup and ignores and violates the little girl's feelings. It's not until she finds the many letters the girl collected that she realises what she needs to do.
Finally the girl and her are sitting on the bed, sorting letters.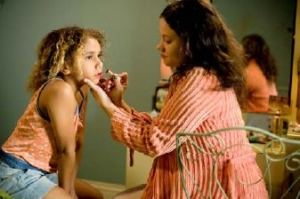 Details
Cast

Patsy (mother)

Release dates

2009 - Australia

Rating

PG - Parental guidance

Distributor

Flickerfest
Watch now
Note: Film might not be available at all suppliers.
Find "The Party Shoes" on DVD or BluRay
Disclosure: I get commissions for purchases made through some of the below links.
Browse a list of Aboriginal film suppliers and distributors
Other films by Michelle Blanchard