Synopsis
In a pub in Kalgoorlie, the mining capital of Western Australia, Lenny, an unsuspecting tourist walks into a conversation between Amos, a gold digger, and two miners. He purchases a nugget from the digger for what he thinks is a bargain price.
What he is not aware of is the ingenious way Amos makes money - he spray-paints ordinary pieces of rocks into nuggets and engages the two larrikin miners to help him sell his 'gold'.
Director Debbie Carmody says about her film: "Based on a yarn, Done Dirt Cheap is a reflection of the type of characters you see in the Western Australian Goldfields. I wanted to give the audience an insight into a world that's not often seen within wider Australia - a Super Pit with huge machinery taking the wealth of the earth, and a man from the land getting in on the mining money-making action." [1]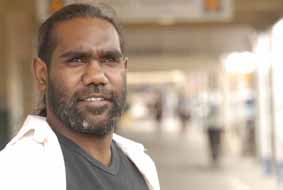 Details
Cast

Trevor Jamieson - Amos (digger)
Wendy Martin - Gracie (his wife)
Geoffrey Foulkes-Taylor - Baz (man in pub)
Harold James Elsbury - Harry (man in pub)
Alan Dungey - Lenny (tourist)

Release dates

May 5, 2007 - Australia (World premiere on the Message Sticks Indigenous Film Festival)

Video/DVD release date

2007, Bit of Black Business

Rating

G - general

Distributor

Flickerfest

Soundtrack

Andrew Lancaster, David McCormack

Notes

Debbie Carmody is the director of the multi-award-winning documentary 'Rosie' about Rosalie Fraser (2004).
Watch now or find a DVD/BlueRay copy
Browse a list of Aboriginal film suppliers and distributors
Other films by Debbie Carmody