Synopsis
Ralph tells the story of Madelaine, a girl writing letters to Ralph Macchio, the star of the 'Karate Kid' movies.
At school the teacher and a boy who hurls racist comments at her ("Get a bath!") interrupt her presentation about these films.
Garth, an Aboriginal boy, stands by her but gets beaten by the school's principal for this. He returns home to The Block (an Aboriginal area in Redfern, NSW) only to be picked up by police.
When Garth does not turn up at school Madelaine investigates his whereabouts. She writes him a letter inviting him to the school dance.
Wearing a brand new dress her mother has bought her Madelaine rocks up at the night of the dance. But she's refused entry and is bullied by her peers. It's not until Garth appears out of nowhere, dressed up, that the two enter school and rock the dance floor.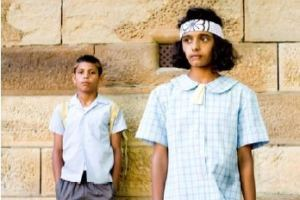 Details
Cast

Madelaine
Garth

Release dates

2009 - Australia

Awards

Best Short Film - 2009 Holding Redlich Inside Film Award

Rating

PG - Parental guidance

Distributor

Flickerfest

Notes

Deborah Mailman is a well-known Aboriginal actress who has stared in Rabbit-proof Fence and Radiance among others.

Ralph is Deborah's debut as a director.

The script was co-written by Wayne Blair.
Watch now or find a DVD/BlueRay copy
Browse a list of Aboriginal film suppliers and distributors