Synopsis
Ten Canoes is different in many ways. Forget Hollywood, action or predictable stories, even forget fast-paced entertainment. Ten Canoes is a quiet film, a film about how Aboriginal life has been 1,000 years ago and maybe even before that.
Be also prepared to see lots of (mainly male) nudity, listen to jokes about farting or see a speared man dying.
This excellent film tells two stories, differentiated by telling one in colour and the other in black and white, but blended in the beautiful environments of the swamps of northern Arnhem Land.
It is the distant past, tribal times. Dayindi (played by Jamie Gulpilil, son of the great David Gulpilil) covets one of the wives of his older brother. To teach him the proper way, he is told a story from the mythical past, a story of wrong love, kidnapping, sorcery, bungling mayhem and revenge gone wrong.
In English storytelling (by David Gulpilil) and subtitled Ganalbingu language, this is a film unlike any you have ever seen.
We weren't really acting, we were channeling our ancestors.

— Frances Djulibing
Ten Canoes trailer
Some quotes from online forums about Ten Canoes:
An organic film about indigenous Aboriginal society, minus all the media hype, pent up guilt and hyperbole, is a rare opportunity.

— forum post
Perhaps this film can serve as a reminder for the naysayers that there is much of substance and worth in Indigenous culture.

— forum post
The first film to deal with Aborigines as other than an 'issue' is stunning.

— forum post
Beyond Ten Canoes
Rolf de Heer's production company, Vertigo Productions, didn't stop with Ten Canoes. Read about eight follow-on projects which were inspired by 10 Canoes.
11 Canoes
11 Canoes was a project in 2004/5 that taught older teens from Ramingining how to shoot, record and edit video. It enabled them to make their own mini-documentaries and to record the cultural renewal that was taking place as a consequence of the 10 Canoes project.
12 Canoes
With the success of 10 Canoes, director Rolf de Heer and digital media practitioner Molly Reynolds worked together with the Yolngu people of the Arafura swamp to create 12 Canoes, a web based multi media project and cinema presentation of twelve linked short subjects that together paint a visual and audio portrait of the people, history, culture and place of the Ramingining Community of North-Central Arnhem Land in Australia's Northern Territory.
12 Canoes was theatrically launched in July 2008, the website www.12canoes.com.au went online on 8 September 2008. Also available as DVD.
13 Canoes
13 Canoes was a gallery exhibition project at the South Australian Museum. It was co-curated by Belinda Scott (Ramingining's Bula'bula Aboriginal Arts Corporation) and the South Australian Museum. 13 Canoes was part of the 2006 Adelaide Fringe Festival.
14 Canoes
14 Canoes is a publishing project in conjunction with Museum Victoria, which holds the Donald Thomson Collection of thousands of original glass plate photographs and hundreds of traditional artefacts. The Thomson photos, taken in 1937, formed the basis for much of the research for 10 Canoes and the creation of the necessary artefacts for the film.
14 Canoes will be a book featuring some of the original Thomson photographs, the equivalent from the film and matching contemporary photographs of the people of Ramingining.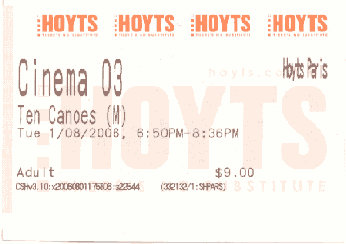 15 Canoes
15 Canoes is a music preservation project which aims to record in high quality digital as many as possible of the traditional Ganalbingu songs as remain. There is a fear among the older Ganalbingu people that these songs will otherwise be lost, as the current younger generation aren't learning them.
16 Canoes
16 Canoes is a project to re-open the television 'station' at Ramingining which has been defunct for a number of years. The plan is to show the locally-made films created within the 11 Canoes project and raw footage of 10 Canoes and 18 Canoes.
17 Canoes
17 Canoes is a cultural exchange program between the 'graduates' of the 11 Canoes project and similar communities in the Kimberley region of Western Australia, so that the kids from Ramingining can teach what they've learnt to their peers in a culturally appropriate and non-threatening fashion.
18 Canoes
18 Canoes was the working title of this 52-minute documentary from 2005 called The Balanda And The Bark Canoes. It premiered at the 53rd Sydney Film Festival in 2006 and centres on cross-cultural issues tackled by the crew of 10 Canoes, illustrating storytelling methodology on both sides of the cultural divide.
The Balanda And The Bark Canoes not only shows the practicalities of working with non-professional actors in crocodile-infested Arnhem Land, but also lays bare what went right and what didn't and gives an insight into the complex consultations, misunderstandings and near-disasters 10 Canoes had to overcome to become the great film it is.
Details
Cast

Jamie Gulpilil - Dayindi/Yeeralparil
Richard Birrinbirrin - Birrinbirrin
Peter Minygululu - Minygululu
Frances Djulibing - Nowalingu
Philip Gudthaykudthay - The Sorcerer
David Gulpilil - The Storyteller
Crusoe Kurddal - Ridjimiraril
Sonia Djarrabalminym - Banalandju
Cassandra Malangarri Baker - Munandjarra
Peter Djigirr - The Victim
Michael Dawu - The Stranger
Bobby Bunungurr - Canoeist/Uncle
Johnny Pascoe -
Billy Black -
Steven Wilinydjanu -
Carl Dhalurruma -
Kathy Gonun -
Jennifer Djenana -

Release dates

June 29th, 2006 - Australia (World premiere at the Adelaide Film Festival)
August 9th, 2007 - Germany (title: <em>Zehn Kanus, 150 Speere und drei Frauen</em>)

Video/DVD release date

24 January 2007

Awards

Best Film - AFI Awards 2006 Best Director - AFI Awards 2006 Best Original Screenplay - AFI Awards 2006 Best Cinematography - AFI Awards 2006 Best Editing - AFI Awards 2006 Best Sound - AFI Awards 2006

Rating

M - Mature

Distributor

Palace Films

Notes

Ten Canoes is de Heer's 11th film.

Filmed on location in the Arafura Swamp in Arnhem Land, NT.

The characters in Ten Canoes are all played by Yolngu people, members of the Ramingining community in north-eastern Arnhem Land.
Watch now or find a DVD/BlueRay copy
Disclosure: I might get commissions for purchases made through some of the links.
Browse a list of Aboriginal film suppliers and distributors
Other films by Rolf de Heer