Synopsis
The Tall Man is the story of Palm Island, a tropical paradise in Australia's Far North. It is the story of Cameron Doomadgee, who in 2004 was arrested for swearing at Senior Sergeant Chris Hurley - the 'tall man' of the title. 45 minutes later, Doomadgee was dead.
This extraordinary documentary takes the audience into the coronial inquest; into the riot that rocketed the story to the nation's front pages; the charging of Hurley for murder and into the once notorious Queensland police force. We see the impact on Doomadgee's family and the Indigenous community of Palm Island - a place where people live lives like no others, have a relationship with the land like no others, and a history, culture and a catastrophic present like no others. This is Australia, but an Australia few of us have seen.
Based on the award-winning book by Chloe Hooper, The Tall Man is a gripping and provocative film that exposes the inescapable complexities of Australia's racial politics, and a haunting moral puzzle that no viewer will forget.
What you get to see is these individuals who have largely been left out of the bigger story. Audiences will get to see the tragedy and pain and resilience written on the faces of those people.

— Darren Dale, producer of The Tall Man [1]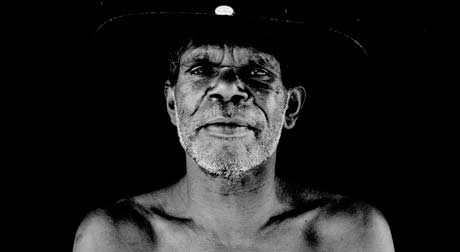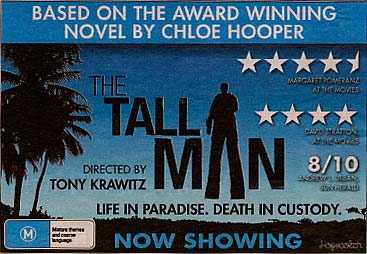 Details
Cast

Murrandoo Yanner
Lloyd Doomadgee
Elizabeth Doomadgee

Release dates

2 March 2011 - World premiere at the Adelaide Film Festival
17 November 2011 - Australia

Video/DVD release date

8 February 2012

Awards

2011 - Walkley Award for best Long Form Journalism

Rating

M - Mature

Distributor

SBS Content Sales

Notes

Tony Krawitz also wrote the script, based on the book The Tall Man by Chloe Hooper.

The filmmakers failed to persuade Senior-Sergeant Chris Hurley, the arresting officer, to be in the film, although he is a voice and a presence in several revealing pieces of footage.

Following traditional Aboriginal protocol of not naming the dead by their real names, Cameron Doomadgee was named Mulrunji after his death.
Watch now or find a DVD/BlueRay copy
Disclosure: I might get commissions for purchases made through some of the links.
Browse a list of Aboriginal film suppliers and distributors
Other films by Tony Krawitz