Language
Aboriginal words in Australian English
Australians use many words from Aboriginal languages. Aboriginal words are still added to the Australian vocabulary, and meanings are not what you expect.
Close this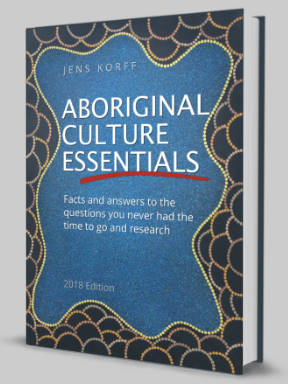 Wishing you knew more about Aboriginal culture?
Search no more.
Get key foundational knowledge about Aboriginal culture in a fun and engaging way.
This is no ordinary resource: It includes a fictional story, quizzes, crosswords and even a treasure hunt.
Stop feeling bad about not knowing. Make it fun to know better.
Selected statistics
500

Number of Aboriginal words included in the 2016 edition of the Australian National Dictionary. Same figure in 1988: 250 [1]
100

Number of Aboriginal languages from which words are included in the 2016 edition of the Australian National Dictionary. Same figure in 1988: 60 [1]
What's the Aboriginal word for...
You might have found this page because you are looking for a particular Aboriginal word. But like artist Ben Quilty, you might be disappointed...
Ben's furious realisation
When Australian artist Ben Quilty was young, he took a road trip during which he hoped to "learn Aboriginal" along the way, picking up a book on the Pitjantjatjara language.
It wasn't until he met a young Aboriginal man that he learned an important lesson.
"We showed him the book," recalls Quilty, "and he said, 'Why you learning that mob's language?' We said, 'What – where are you from?'"
"And that's the first time I realised [that] we'd travelled through 62 language groups on that drive. I was 19 years old and I was ashamed. I was also furious that my whole education had missed the entire existence of Indigenous Australia." [2][3]

You've guessed it: There is no single Aboriginal word for a term. Before invasion, at least 250 Aboriginal languages existed, each possibly having a word for what you're looking for.

You wouldn't be asking "What's the European word for...?" Read more about why translating English to Aboriginal languages is so hard.
If you're looking for Aboriginal words of the Sydney area, Les Bursil compiled a good list.
When "deadly" is wonderful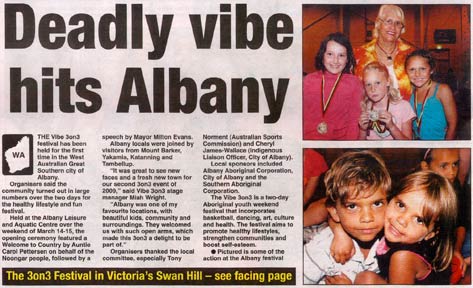 This is an example for how Aboriginal words can be mistaken by speakers of the English language. 'Deadly' is an Aboriginal English word for 'fantastic', 'great' or 'awesome'. The article reports about the fun and joy people had at the two-day Aboriginal youth weekend Vibe 3on3.
While an increasing number of parents are using Aboriginal words for their children's names [5] many Australians don't know how to say 'yes' in any of the many Aboriginal languages.
We all know how to say yes in Spanish don't we? We all know how to say yes in German don't we? We all know how to say yes in French don't we? Do we know how to say yes in any of the 360 Aboriginal dialects in this country? — Ernie Dingo, Aboriginal actor and Yamatji man [6]
The following table lists some of the many words you find in Aboriginal languages spoken in New South Wales. [7]
Selected Aboriginal words

| Aboriginal word* | Standard English |
| --- | --- |
| boorie | boy, child |
| brotha/brother boy | male friend, cousin, peer |
| bunji | mate, close friend, kinsman |
| charge-up, charge | drink alcohol |
| cooee | come here |
| country | land, home |
| deadly | fantastic, great, awesome |
| dubbay, dub | girlfriend, female partner |
| duri (doori) | sex |
| gammon | pretending, kidding, joking |
| gubba | non-Aboriginal person |
| gunjies | police |
| jarjum | child |
| kumanjayi | substitute name for a dead person |
| lingo | Aboriginal language |
| mish | mission |
| mob | family, kin, group of people |
| moola | money |
| pukamani | funeral rite (also: 'pukamani poles') |
| rarrk | cross-hatching design in art |
| shame, shamejob | that's embarrassing |
| shame | embarrass, humiliate |
| sista/sister girl | female friend, cousin, peer |
| Sorry Business | ceremony and rituals associated with the death of a loved one |
| tidda | girl female friend, best friend, peer |
| tjukurpa | Dreaming; traditional law |
| yidaki | didgeridoo |
* Note that this term stands for the multitude of Aboriginal languages which existed in Australia prior to invasion.
Australian language uses about 500 Aboriginal words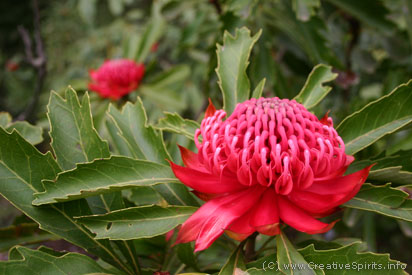 Australia's language is interspersed with a growing number of words coming from Aboriginal languages. In 2016 the Australian National Dictionary listed around 500 words which were in common usage coming from 100 different Aboriginal languages [1], up from 400 words from 80 languages in 2008 [8] and 250 words from 60 languages in 1988 [1].
Most of these words are used to describe flora and fauna or other "things", a trend that is continuing with the increasing interest in bush food.
A survey of newspapers in July 2007 found that the most common Aboriginal word is 'kangaroo', followed by 'wallaby' (which might be influenced by the rugby team of the same name), 'waratah' (also a rugby team), 'koala', 'billabong', 'kookaburra', 'dingo' and 'wombat'.
Not surprisingly, all of these words come from a language spoken in the area of Sydney and surrounds where they were adopted early on in Australia's history. The uniform spelling was established in the 1830s. Later, the language of the Perth area provided jarrah, kylie (a word for 'boomerang'), numbat, and quokka. The language of the Geelong area provided the mythical monster the bunyip. [1]
Apart from Aboriginal words there are also numerous terms for Aboriginal concepts and aspects of traditional culture, formed from English words. These include such terms as: carved tree, dreamtime being, freshwater people, keeping place, law woman, paint up, saltwater people, secret women's business, smoking ceremony, songline, sorry business, welcome to country.
Other terms come from specific political contexts, political activism and events: Day of Mourning, great Australian silence, Invasion Day, Mabo, tent embassy, traditional ownership and, black armband, white blindfold ("a view of Australian history that emphasises the achievements of white society and ignores Aboriginal society").
'Karrikins'—a new word from an Aboriginal language
Aboriginal words are still added to the Australian and international vocabulary.
In 2008 the word 'karrikins' was added [9]. It is derived from the Western Australian Noongar word karrik, one of the first recorded Aboriginal words for smoke from the Perth area in the 1830s. Karrikins describes a substance in plants that stimulates seed germination and seedling growth after bushfires.
Second only to the original language of Sydney Cove, Noongar has given more words to the English language than any other Indigenous Australian language. — Alan Dench, Professor of Linguistics, University of Western Australia [9]
The 'Gubba Man'
The most fearful cry Aboriginal people in north-west NSW could hear in the 1850s was 'Gubbamen' or 'Gubba Man' [10].
This term resulted from an Aboriginal mispronunciation of 'government' and it meant officers were coming to take more children away or do other ills to the community.
The word (sometimes shortened to just 'Gubba') was later applied to all white persons.
Why does the Warlpiri Aboriginal language have no words for saltwater things?
Answer

Aboriginal languages can only have words for things within their local context. The Warlpiri Aboriginal people live in the central desert area of Australia and have no access to saltwater environments [11].